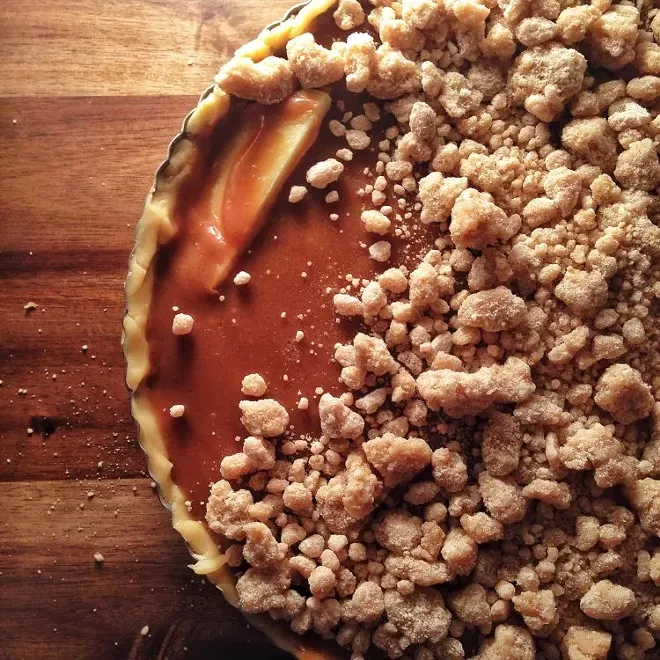 Gideon's Bakehouse
Peanut butter apple pie
Last month we told you that
Gideon's Bakehouse
, makers of some of the most ridiculously decadent cookies you'll ever ingest, would close their stall inside East End Market in order
to rebuild the space to their liking
.
According to owner Steve Lewis, his team is working around the clock to soft-open this Saturday (Oct. 1) but, as Lewis joked, "if that happens, it will be
Charmin soft
."
Short of that, cookie monsters can look forward to a grand reopening on
Oct. 8
and, in addition to the offerings we've all become hooked on (the chocolate-chip cookie that started it all; dark-chocolate toffee-and-pistachio cookie; Southern red velvet cake), Gideon's will introduce some new items to the menu, including an October flavor dubbed "
The Frankenstein
."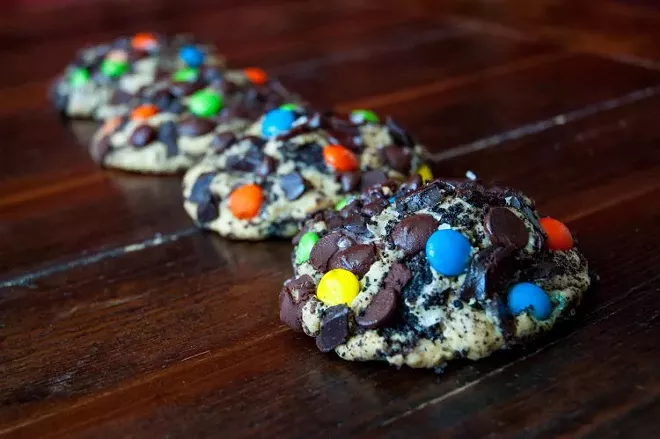 Gideon's Bakehouse
"The Frankenstein"
The
half-pound
vanilla bean cookie comes filled with pieces and parts of favorite Halloween candies and will be available through, umm, Halloween.
Patrons will also be able to sidle up to a four-seat cookie bar (
watch for a five-seat outside-window cookie bar in the coming weeks
) and enjoy bowls of hot-baked cookies à la mode, with ice cream being supplied by
Kelly's
from across the street.
In the coming weeks, look for peanut butter apple pie, followed by the first flavor in their line of dessert coffees, the "
original peanut butter iced coffee
."
Gideon's Bakehouse
Turn-of-the-century interior
As far as the interior design is concerned, scenic painter Mark Cleary will give the space a
turn-of-the-century
(that's 20th century) feel
in keeping with Gideon's backstory
, and furnishings like an antique cash register and antique chandeliers (including one procured from
Disney's Haunted Mansion
) will be a part of the motif.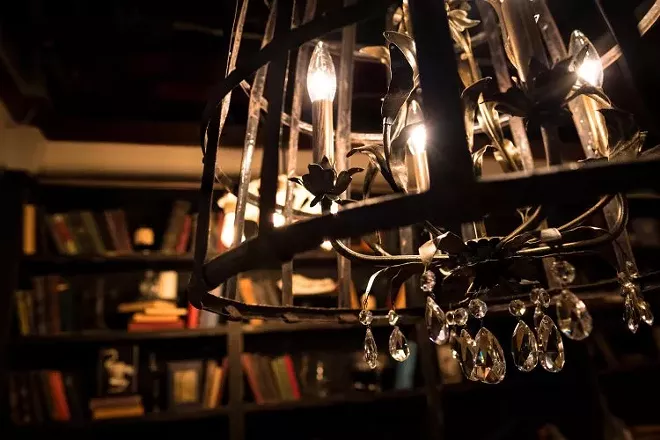 Gideon's Bakehouse
Antique chandelier
Says Lewis, "October is a great month for us to officially open because Halloween is in our theme all year around."
For more, visit
gideonsbakehouse.com
.