THIS LITTLE UNDERGROUND
Andy Matchett at Country Covers 5 (Will's Pub)
Hopefully, the latest episode of the every-so-often
Country Covers
series at
Will's Pub
(Sept. 29) will jolt the great event into regularity. This reboot featured the most lavish lineup yet and was, by far, the best attended.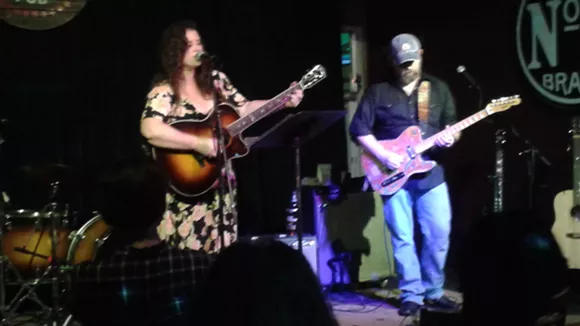 Kaleigh Baker and Brian Chodorcoff at Country Covers 5 (Will's Pub)
The sheer number and variety of bright locals here was enough to dazzle with a stampede of respected names like
Eugene Snowden, Kaleigh Baker, Andy Matchett, Stephen Rock, Jacob Miller
(Woolly Bushmen),
Jordan Schneider
(Slim Walker & His Orchestra),
Phil Longo, Wheeler Newman, Beartoe, Tommy Cooper
(Oak Hill Drifters) and, of course, cornerstone organizer
Brian Chodorcoff.
But when you have an all-star situation like this, even more special are the collaborative permutations that happen: Beartoe with Tommy Cooper; Brian Chodorcoff with
everyone
; the full-band finale with Jacob Miller, Jordan Schneider, Phil Longo and Alan Cowart.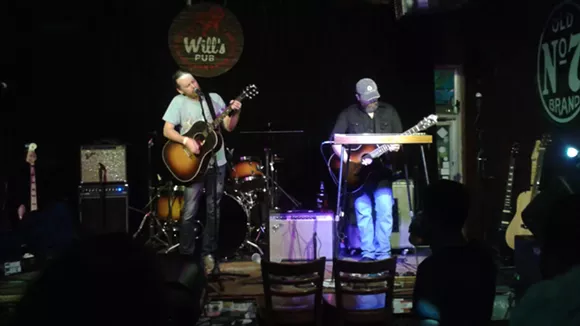 Wheeler Newman and Brian Chodorcoff at Country Covers 5 (Will's Pub)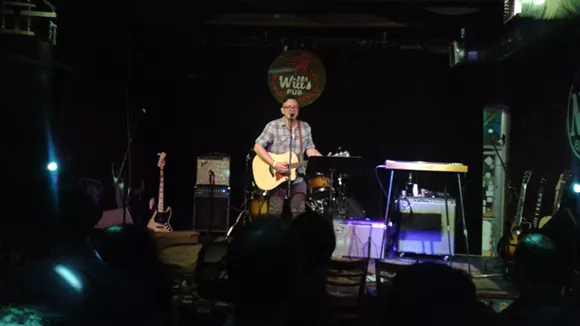 Stephen Rock at Country Covers 5 (Will's Pub)
Besides the talent, it was also nice to see the choice in material. Apparently, our city has taste both liberal and good about what qualifies as "classic country," with covers that spanned traditional icons like
Dolly
and
Conway Twitty,
progressive legends like
Gram Parsons
and
Townes Van Zandt,
and even modern young guns like
Ryan Adams.
Andy Matchett at Country Covers 5 (Will's Pub)
Probably my favorite part of the night was Andy Matchett going
full Hank
in character and wardrobe. It should be no surprise considering how much he's been merging the crafts of live music and theater for a while now, but the fidelity and showmanship of his band's performance was a particular treat to both see and hear. Here they are doing one of my all-time favorite Hank Williams songs:
Both onstage and on the floor, this was the biggest edition of Country Covers so far. The fact that it's a canned food drive for
Fern Creek Elementary School's pantry program
elevates it from just a great party to a true engine of good. With local musicians, local fans and local cause, this wasn't just some show – it was an evening of
total community.
Country music and community are all precious things. But
food
is
essential
. You can never fully know that until you've been on the underside of things. Of the First-World sins, food waste is one of the worst and most casual. It's why I'm that guy who sometimes embarrasses his dining company by scraping the shit out of his plate into the to-go box like some OCD dishwasher lest a bite go into the trash.
Because it serves underprivileged neighborhoods like
Parramore
and receives all elementary-aged students living at the
Coalition for the Homeless,
Fern Creek Elementary's student population is over 85% in poverty and 20-25% homeless, according to the school's foundation. So, while it's a really fun night out, its purpose is why the Country Covers event really matters. Add in the robust support this time and everyone deserves a tip of the hat.
///////////////////////////////////////////////////////////////////////////////////////
This Little Underground
is Orlando Weekly's music column providing perspective, live reviews and news on the city's music scene.

Follow Bao on Twitter (@baolehuu)
Email Bao: baolehuu@orlandoweekly.com