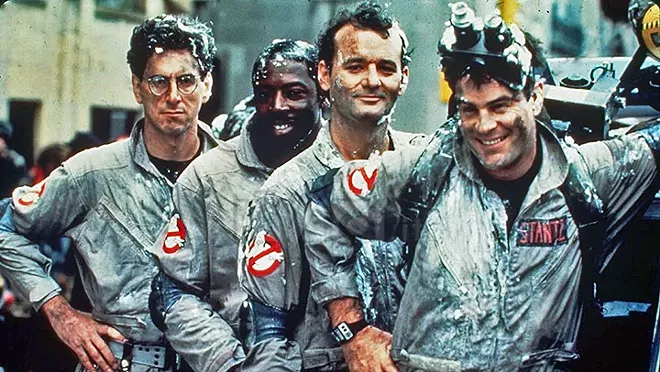 Just in time for Halloween, it's an all-male
Ghostbusters
! Rebooted after the initial 2016 female-led cast was deemed "too scary" by critics and moviegoers alike, this family-friendly version is rarin' to go with ghouls, ectoplasm and MEN MEN MEN! That first lady version was too LADYish! It was difficult to believe that Hollywood would cast women as scientists when their premenstrual syndrome would clearly never allow such careers or camaraderie in reality – almost as difficult to believe in as ghosts themselves! It wasn't something for children, considering how misfired filmmaking ruins childhoods (not systemic societal issues or poor caregiving like we thought).
This all-male reboot is just the salve for a wounded ego – hold on, our editor is tapping us on the shoulder. What IS it? ... Well, if this isn't the reboot why are there two movies? ... Seriously? The male-dominated
Ghostbusters
fan base rallied against an all-female reboot? If women make them that uncomfortable wouldn't it be good to show them women with agency in a familiar setting, much like training wheels for daily life? ... We know that's not the point of the article, we just – OK, fine. Here it is! The original
Ghostbusters
, in pristine 1984 condition, waiting underneath all those old Reddit posts, continuing to exist despite insistence from 4chan enthusiasts that a reworking of the film would irreparably scar childhood memories and therefore society at large. Now if you'll excuse us, we have a lot of thinking to do.
11:59 p.m. Saturday, Oct. 1 | Enzian Theater, 1300 S. Orlando Ave., Maitland | 407-629-1088 |
enzian.org
| $11