Bon vivants gather to celebrate at the Party for the Senses
Sure, many food-conscious folks consider
Epcot's International Food & Wine Festival
a highlight on the culinary calendar, but discriminating bon vivants mark the handful of days (six, actually) when the gastronomic bacchanal known as the
Party for the Senses
takes place.
The premium event allows paying guests to roam the World Showplace Events Pavilion (located between Canada and the United Kingdom) and get their fill from more than 50 tasting stations highlighting fare from Disney chefs as well as visiting ones,
many of the celeb variety
.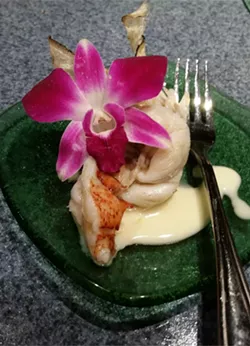 Butter-poached lobster tail over grains of paradise served with caramelized banana panna cotta and oyster root crisp
Entertainment, apart from the usual soundtrack of dance numbers, is also part of the proceedings and changes from party to party.
There are plenty of potent potables too –
plenty
– so much so it can sometimes feel like a race against the clock to sample as much drink and food as possible in the two-and-a-half-hour allotted time frame (the party runs from 7 p.m. to 9:30 p.m.).
Yes, bon vivants can be gluttons, but given the cost of the event ($169 for general admission; $199 for reserved seating; and $329 for VIP, plus $97-$114 to enter Epcot itself), it's easy to forgive their indulgences.
Party for the Senses runs
October 8, 15, 22, 28 and 29
, with the final two dates employing a special theme – a Halloween soiree dubbed the Yelloween Masquerade.
For more information, visit the
Party for the Senses
website.