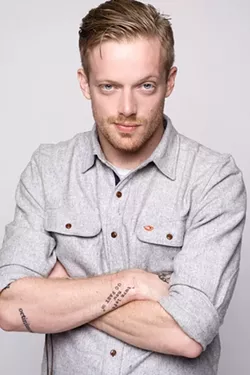 photo by Anya Kozyreva
Astronautilus
You have not lived until you've heard Astronautalis deliver one of his mid-show freestyles. Driven by audience-suggested topics, words and themes, it's part improv performance, part linguistic exercise and part rap master class, and it's always as jaw-droppingly impressive as it is entertaining.
It also shouldn't distract you from the fact that this former Floridian has been releasing albums of increasing complexity and intricacy since 2003. His most recent release,
Cut the Body Loose
, finds him on the punk-adjacent SideOneDummy label with production by John Congleton (St. Vincent, Swans), so one might expect him to be flexing his more indie-oriented muscles, but instead the album is an electric and straightforward affair, with slashing rhymes flying atop dense, brutalist beats. It's just the sort of album that would be well-promoted with a fantastic mid-show freestyle.
with Ceschi, Factor Chandelier, Transit | 7 p.m. Monday, Oct. 10 | Will's Pub, 1042 N. Mills Ave. |
willspub.org
| $15-$17