THIS LITTLE UNDERGROUND
Moriah Lorraine Russo
The Calliope Co.
You may have noticed some seismic changes in the world of Orlando art-pop band
Moon Jelly
over the last year or so. There's been some lineup shift and a major, more serious pivot in their aesthetic that was unveiled at an
excellent multimedia show
at the Gallery at Avalon Island's
In Between Series
last summer. All those turns have now culminated in a
total overhaul.
They've rechristened themselves the
Calliope Co.
and the core collaborative partners of Anna Wallace and Timothy Murray will soon migrate to
L.A.
at the end of November.
The Calliope Co. at Stardust Video & Coffee
As it now stands, the latest phase of this ever-unfolding blossom (Oct. 9, Stardust Video & Coffee) is a
psychedelic adventure
of beauty, purpose and arc. Though pregnant with atmosphere and exploration, it's not aimless. In fact, there's more destination in what they're doing now than I've ever seen prior. Their increasingly expansive music has open-ended possibility but there are real melodies and songs here.
No mention of ambience at this mood-rich show would be complete without credit to the video work by
Broken Machine Films'
Joshua Rogers, who added his signature warped visuals to thrust the affair further into another dimension. And the Calliope Co.'s sound is particularly suited for his
nocturnal, lost-transmission vistas.
Broken Machine Films' Joshua Rogers doing visuals for Voice Hoist (Stardust Video & Coffee)
Among the openers was Sarasota's
Voice Hoist,
who, true to name, makes an especially auroral kind of noise that's vocally based. And just like the performance at the Gallery at Avalon Island over the summer opening for
Simeon Coxe
project
Amphibian Lark,
this one was celestial.
St. Pete's
Ruff Bummer,
however, is a more
traditional noise artist,
if such a thing exists. At least, it's what is typically evoked in minds when the term comes up. Spiritually – with a performance that occurred off the stage, in the back corner of the room, with back mostly to the audience – it's more punk. Sonically, it's an abrasive storm that, instead of the subtle hues of white static sometimes explored in the genre, is pure, visceral exhilaration with volume, velocity and dynamics.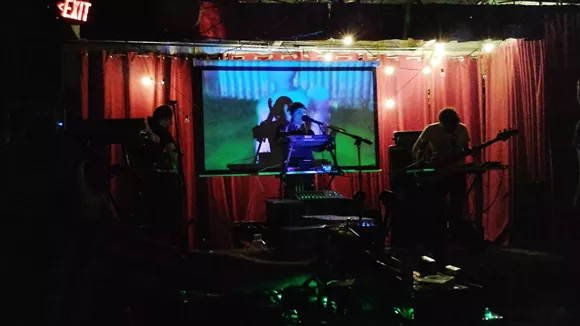 The Calliope Co. at Stardust Video & Coffee
Back to the Calliope Co., until they go west and become dead to us, you'll have a final chance to catch the phoenix that they've become at their
farewell performance
at the Gallery at Avalon Island on November 12.
The Calliope Co. at Stardust Video & Coffee
Brain drain is just the worst, and this one definitely hurts since Murray alone has kept Orlando
legit weird
for many years. Across many experimental projects like
Auto Chlor, Glen Runciter, Idi Bidi Midi Comidi,
cell phone band
Zenas Fisk
and the
Pedal Challenge,
the man's made a career of tracing the line between insanity and genius. Even so, I don't rue this one too much. These guys have ties too plentiful and footprint too embedded in the Orlando underground to ever lose touch. There will always be a home for them here once L.A. drains their souls.
///////////////////////////////////////////////////////////////////////////////////////
This Little Underground
is Orlando Weekly's music column providing perspective, live reviews and news on the city's music scene.



Follow Bao on Twitter (@baolehuu)
Email Bao: baolehuu@orlandoweekly.com