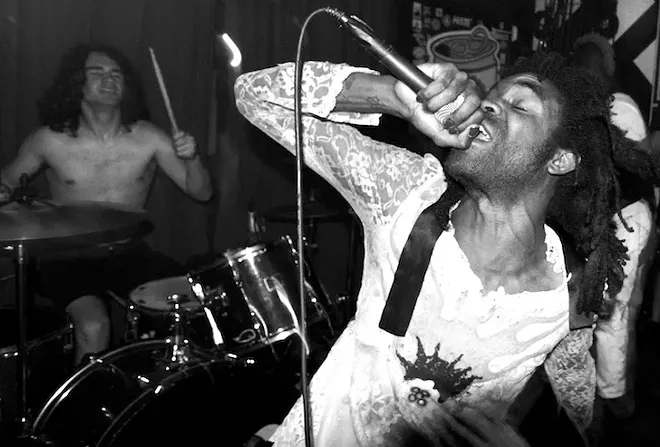 Jen Cray
Ho99o9
Acts of true intrigue are rare. But New Jersey's Ho99o9 (Oct. 11, Spacebar) is definitely one of them, and they're rising up hard right now. The band has been dismissive of the Death Grips parallel but there's more than a passing resemblance, and it's not just some facile black thing either. It's the lurid onslaught that channels pure punk essence and extreme modern noise into a sensory jihad. If anything, with their jones for horror themes and imagery, they're more gripped by death than Death Grips, even. And actually, Ho99o9 are less willfully arty, making the sum something like the hardcore punk spawn of Gravediggaz. Apparently, I'm not the only one who's been waiting for that.
For their first Orlando appearance ever, they went straight guerrilla and blitzed the Milk District with no mainstream fanfare, no traditional venue, no cover, not even an opener. It was all street buzz. And like last week's Eric Bachmann living room show and the Posies' secret pop-up show, local ties are to be thanked for this fortune. Their manager, Mike Feinberg, is a part-time local and so brought the goods home to make this special event happen.
Undeniably, Ho99o9 are all about mystique and shock. But, as this show proved like a head-on collision, it's not all just image. In performance, they are pure detonation, a volcano in a box. Wild, violent, apocalyptic, it's one of the most visceral live punches in the game right now.
Even with the tinder of hype and reputation, nothing goes up without a real spark. And with their live ignition, the usually arty Spacebar went full-on Uncle Lou's and became a lawless pit. Shit got animalistic. You know it's something special when you see bar owner Tommy Mot in the pit.
In sound and look, Ho99o9 are equal parts punk and sensation. They're maximum, they're now and – between the fury they expel and the fury they incite – it's clear they're 100 fucking percent real.
As the kickoff for some underground shows the band are playing to ramp up to the spring release of their debut LP, this will probably be the smallest venue you'll ever see them in again. And if you were there, you've got eternal bragging rights.
You may have noticed some seismic changes in the world of Orlando art-pop band Moon Jelly (Oct. 9, Stardust Video & Coffee) over the last year or so. There's been some lineup shifting and a major, more serious pivot in their aesthetic that was unveiled at an excellent multimedia show at the Gallery at Avalon Island's In Between Series last summer. All those turns have now culminated in a total overhaul. They've rechristened themselves the Calliope Co. and core collaborative partners Anna Wallace and Timothy Murray will soon migrate to L.A., at the end of November.
As it now stands, the latest phase of this ever-unfolding blossom is a psychedelic adventure of beauty, purpose and arc. Though pregnant with atmosphere and exploration, it's not aimless. In fact, there's more destination in what they're doing now than ever. Their increasingly expansive music has open-ended possibility but there are real melodies and songs here. To fully render the mood-rich show, Broken Machine Films' Joshua Rogers lent his warped, lost-transmission visuals to thrust the affair further into another dimension.
Until they go west and become dead to us, you'll have a final chance to catch the phoenix that the Calliope Co. have become at their farewell performance at the Gallery at Avalon Island on Nov. 12.
Brain drain is just the worst, and this one definitely hurts since Murray alone has kept Orlando legit weird for years. Across many experimental projects like Auto Chlor, Glen Runciter, Idi Bidi Midi Comidi, cell phone band Zenas Fisk, and the Pedal Challenge, the man's made a career of tracing the line between insanity and genius. Even so, I don't rue this one too much. These guys have ties too plentiful and a footprint too embedded in the Orlando underground to ever lose touch. There will always be a home for them here once L.A. drains their souls.