photo by Rob Bartlett
Shack-ago Dog at Shake Shack
Whether you call them hot dogs, wieners, tube steaks or franks, they remain the king of the hand-held meals. No other dish (besides, perhaps, macaroni and cheese) can span the range from so simple it's mere kid food to super-gourmet. And while most states think of hot dogs as a summertime thing, we get that mild summer vibe year-round, so we can chomp a weenie any month we want to. Here are 10 of our current favorite places to see man bite dog.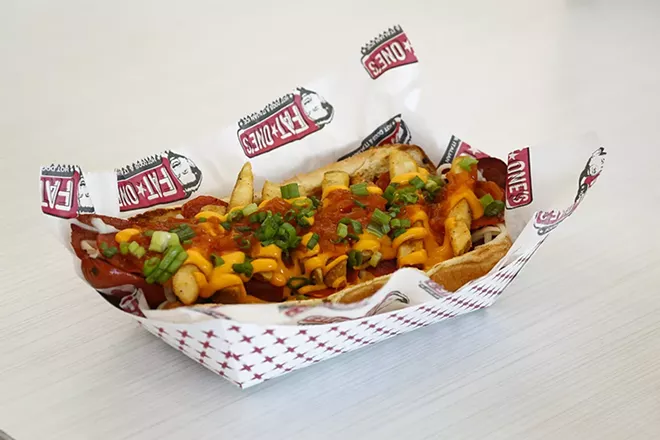 photo by Rob Bartlett
The Fat One at Fat One's
The Fat One at Fat One's Hot Dogs & Italian Ice
Fans of the former N*Sync boy came out in hordes when Joey Fatone opened Fat One's in the Florida Mall, sporting the self-deprecating moniker he's been known by for years. We're fans of the Fat One, the signature foot-long hot dog topped with fries, corned beef, mozzarella, cheese sauce, green onions and pepperoni. (Florida Mall, 8001 S. Orange Blossom Trail, fatonedogs.com)
Hawaiian-Style Hula Dog at Kona Dog
Almost every day of the week, you'll find this food truck somewhere around town doling out dogs from their service window. The Hula dog is about as close to Oahu as you'll get without a 14-hour plane ride. Get it Hawaiian-style, tucked into a sweet roll with pineapple compote, mango mustard and jalapeño sauce. (Check gokonadog.com for current location)
Waffle Dog at Doghouse
Forget everything you thought you knew about how to eat waffles and sausage, breakfast's perfect salty-sweet pair. The Waffle Dog is a brunchy take on a corn dog, with a blueberry-maple sausage on a stick enrobed in a fresh waffle. It's served with blueberry compote for dipping; it can be made with a regular all-beef Hebrew National, a vegan dog or a certified Angus beef one; and it's only $7 bucks. Bye-bye, budget-breaking brunch. (2527 Edgewater Drive, 407-412-5409, doghouseorlando.com)


photo by Holly V. Kapherr
Jumbo Chicago Hot Dog at Hot Dog Heaven
Shack-ago Dog at Shake Shack
Even though Danny Meyer's mega-chain is New York-based, they still do a mean impression of a Chicago hot dog. The bun is grilled until crisp (the only variation from a true Chi-dog, where it would be a soft-steamed poppy-seed bun), then topped with sport peppers, neon relish, tomato, onion, celery salt and a pickle spear. (119 N. Orlando Ave., Winter Park, 321-203-5130; also 8359 International Drive, 407-205-0362, shakeshack.com)
Jumbo Chicago Hot Dog at Hot Dog Heaven
It's hard to argue that this isn't Orlando's classic spot for hot dogs – a must-visit since 1987 for friends coming from out of town. This Chicago dog is fully authentic, even down to the steamed poppy-seed bun. Get a reusable, refillable logo mug filled with root beer to go with your dog, then claim a spot at the communal bench outside. (5355 E. Colonial Drive, 407-282-5746, hotdogheaven.com)
Super Chubby Dressed at Chubby's Hot Dogs & Subs
Another temple to the Chicago-style dog, Chubby's is tucked into a strip mall next to the Porsche dealership on 17-92. You'll find Italian and Polish sausages there, too, if that's the kind of tube meat you prefer. Choose either a plain bun or steamed poppy-seed bun, plus all the typical toppings you'd find riverside on a summer day in the Second City. (9400 S. Highway 17-92, Maitland, 407-331-3647, chubbyshotdogssubs.eat24hour.com)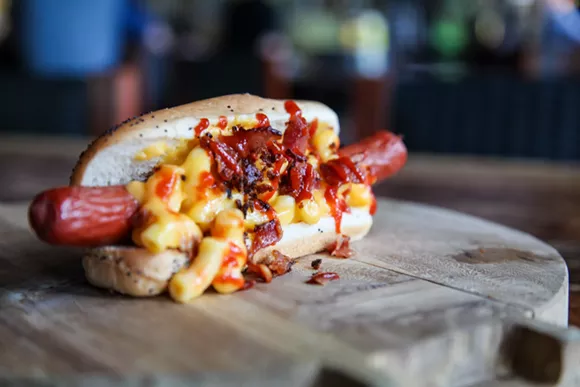 photo courtesy Frank and Stein's
Bacon Mac Frank at Frank and Stein's
Bacon Mac Frank at Frank & Steins
If you're planning on swilling a boatload of suds at the bar, you might want something to soak it all up. Enter the Bacon Mac Frank, an all-beef hot dog in a steamed poppy-seed bun topped with creamy mac & cheese, bacon crumbles and drizzled with sriracha. (150 S. Magnolia Ave., 407-412-9230, frankandsteins.com)
Chili Cheese Dog at Freddy's Frozen Custard & Steakburgers
You don't go to this new local outpost of the Kansas chain to eat healthy, so go for the Chili Cheese Dog whenever you have a chance. The hearty chili, cheddar shreds and onions top the all-beef frank, but the real star is the bun – a split-top roll toasted on the flat-top grill until crisp. (3200 S. Orange Ave., 407-757-2318, freddysusa.com)
New York Dog at Sonic
Of course this drive-in chain has hot dogs, both foot-long Coneys and classic wieners. We feel a little shame naming a huge fast-food chain to this list, but we truly appreciate their version of an NYC dirty-water dog, topped with sauerkraut, grilled onions and spicy brown deli mustard. Pair with a cherry limeade for best results on a day when you've got too many errands to run to get out of the car. (Multiple locations, sonicdrivein.com)
Holiday Dog at Vegan Hot Dog Cart
For about 10 years, the Vegan Hot Dog Cart has provided cruelty-free comestibles to club-goers on Orange Avenue. The veggie dog VHDC uses is perfectly smoky and satisfying, and you can top it with any of the vegan-friendly toppings on tap, but we like the Holiday Dog best: fried sweet onions, homemade cranberry sauce, Carolina mustard barbecue sauce and parsley. The VHDC makes appearances at other events, too, including Veg Fest and Tasty Tuesdays in the Milk District. (65 N. Orange Ave., facebook.com/theveganhotdogcart)