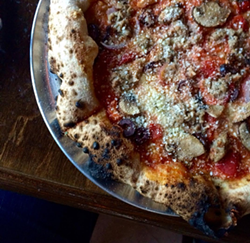 photo by Jessica Bryce Young
Pizza Bruno's 92 pie
There's been a bit of grumbling about Pizza Bruno's "no phone" policy, mostly because it means you can't call in to order takeout. Until now it's been eat it there or order in person and sit and wait.
Until now, we said.
Today,
the Brunoz crew added online ordering to their site,
so even the antisocial or generally unpresentable can enjoy pies, charcuterie, salads and those sweet, sweet garlic knots. You may want to
peruse the menu section for descriptions
first, as they aren't over in the order section yet.
Still no delivery though (pickup only) – so you're gonna have to get your ass over there until Bruno sets up a pizza drone squadron.
PIZZA BRUNO
3990 Curry Ford Road
pizzabrunofl.com