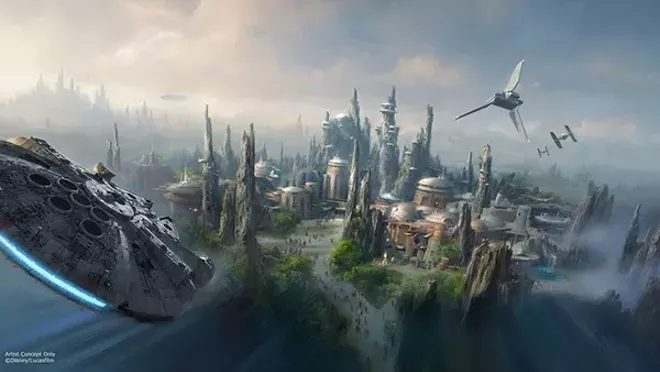 Disney has been very up-front about how much they expect
Star Wars land
to boost attendance at WDW's Hollywood Studios. They're already
expanding the parking lot
in anticipation of the large crowds the new land will draw, and have been toying with the idea of blocking annual pass holders from accessing the new land when it first opens.
We also know that the new land will include two rides: one where guests can pilot the Millennium Falcon and another "ground-breaking" ride.
Few details have been given
regarding that second ride, but the rumors of what it will be have been gelling around some interesting ideas.
This ride, known internally as "Alcatraz,"
according to MiceChat
, will be more of a traditional dark ride in that guests will board vehicles and travel through various rooms where the storyline plays out.
All Disney has confirmed
regarding this second ride is that guests will find themselves "in the middle of a battle between the Resistance and the First Order in a race against time."
The ride vehicles featured in the only official rendering of the ride look to seat roughly six to eight and will likely be trackless. This would be one of the first major uses of the trackless technology in a ride at Walt Disney World; Antarctica at SeaWorld and King Kong at Islands of Adventure both use similar technology. The rumored Secret Life of Pets at Universal Orlando and
Ratatouille at Epcot
attractions are also expected to use trackless ride systems.
If rumors are to be believed, "Alcatraz" will be Disney's most daring ride to date with hundreds of animatronics, including
over 150 Stormtroopers
. The ride will also feature a unique experience – guests will disembark their vehicles mid-ride to go on a
journey by foot
before re-boarding the ride itself, essentially making this two rides with a walk-through attraction in the middle. Little is known of what guests will experience during this walk-through section of the attraction, but it's believed that live in-character cast members will be present to help guide guests through multiple highly interactive rooms. Disney has filed patents for
laser firing drones
, interactive
light sabers
and
other technology
directly linked to the Star Wars land.
With so much loading and unloading taking place, the ride is believed to have an
hourly capacity below 2,000
guests per hour. That's roughly a third less than Pirates of the Caribbean or Haunted Mansion.
The ride will use
an elevator system
similar to that used on Universal's Transformers ride. On that ride, most guests don't even notice the elevator system due to the large screen where the 3-D video moves up and down the elevator shaft with ride vehicle. We still do not know if "Alcatraz" will have 3-D elements, but it's unlikely both new rides in the Star Wars land experience will use the technology.
All phases of the new Star Wars experience should be open by WDW's 50th anniversary celebration in 2021.
Current permits
for the project expire in the fall of 2019.