A new mural across the street from the gay nightclub Pulse on Orange Avenue is now finished and has begun to resonate with Orlando locals.
The mural on the wall of the Einstein Bagels at 1901 S. Orange Ave. faces the site of the worst mass shooting in modern U.S. history, and many who live in the area have taken notice. The mural features four hands spelling out the word "love," adorned by 49 orange blossoms to honor the 49 victims who died in the June 12 tragedy.
Shannon Saunders, 48, originally from Orlando, stopped by after seeing it in the newspaper.
"It's my home and when I found out that Pulse was hit, it hit really deep," Saunders says. "It kind of makes your heart feel better knowing that there are people out there who are doing things that show love instead of hate. I'm a big supporter of 'Love Is Love,' and knowing that the artist is from Orlando makes it a little more special."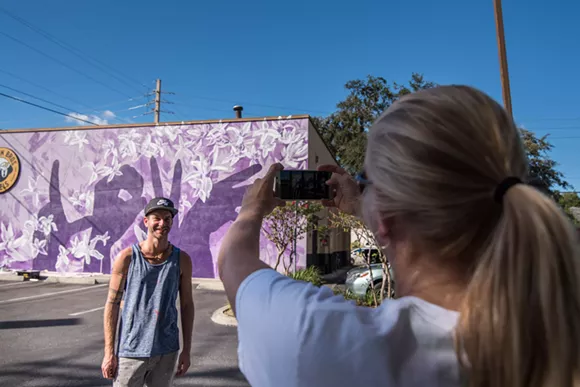 Michael Owen, the artist who painted the mural, attended Dr. Phillips High School in Orlando. The day after the tragedy Owen felt the need to contribute to the Orlando community in some way and worked from that moment on to get the mural up in Orlando.
Owen is the creator of the Baltimore Love Project, a concept which seeks to spread connectivity through murals that feature the same four hands spelling out the word "LOVE."
Originally Owen anticipated finishing the mural on Wednesday, Oct. 19, but because there was so much interest in the work, he kept stopping to speak with people and he didn't finish until later the next day.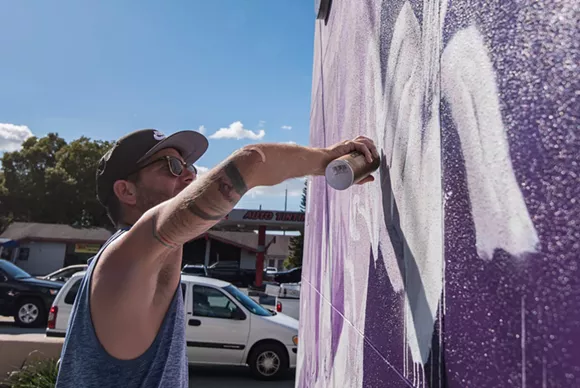 "This word can affect the neighborhood, it can bring people together, it can be a symbol of something positive, a reminder to love and a kind of solution to the different types of issues that are going on," he says. "The issues in Baltimore are different than the issues in Orlando. Nothing like Pulse has ever happened before and
it's
a confusing thing to think through. Trying to figure out how you feel about the situation is even more confusing."
"To me and to a lot of other people who are affected by the mural, [we] think that this is a kind of solution, or idea that can be pointing to a solution," Owen says. "People coming up to me and saying 'thank you' is the biggest compliment, because they get it."
Lissett
Medina, 46, of Palm Bay, stopped by for a quick snapshot of the mural solely because of the word that was displayed.
"I looked at it and said, 'Oh wow! That is beautiful,'" Medina says. "My son is adopted and I adopted him because of love and that is inspiring. That's what it's about."