Less than two weeks from Election Day, President Obama made a final pitch Friday for a Hillary Clinton presidency to critical millennial voters in Central Florida.
Inside a packed CFE Arena with thousands waiting outside, Obama spoke to a crowd of 9,000 people on the University of Central Florida campus, the nation's
second-largest
university with about 60,000 students. Clinton's campaign has been plagued since the Democratic primaries with reports that younger voters who enthusiastically supported U.S. Sen. Bernie Sanders would not turn out to vote for her. A recent survey of young voters by
Harvard's Institute of Politics
shows that actually, Clinton would get 49 percent of the vote from people ages 18 to 29, while Republican presidential candidate Donald Trump would receive 21 percent.
"You have the chance right now to reject a divisive, mean-spirited politics that would take us backwards," Obama says, directing his comments toward young people in the room. "You have the chance right now to elect a woman— our first female president...You have a chance to shape history, so don't let that chance slip away. You've got to vote."
Several people spoke before Obama, including U.S. Senate candidate Patrick Murphy, but no one made quite the impact with the youthful crowd like Florida House candidate Carlos Guillermo Smith.
Smith, a graduate of UCF, tells the audience that earlier this year, he was "feelin' the Bern," and even voted for Sanders in the primary.
"I was proud to do it," he says. "But today, after this rally...I'm voting for Hillary Clinton because now I'm with her. [Clinton] is the only candidate with the real chance to fight for the issues that I care about as a progressive."
Smith, invoking the unity felt in Orlando after the Pulse massacre, says the City Beautiful is a place where people "build bridges, not walls."
"And you better believe that Orlando is a place where love trumps hate," he says.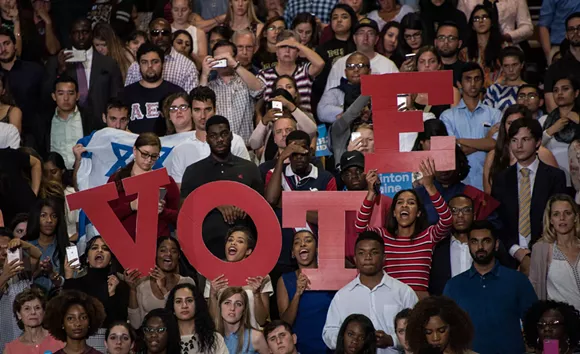 Aside from urging voters to get to the polls early, Obama encouraged Floridians to also vote for Murphy to replace Republican incumbent U.S. Sen. Marco Rubio. The president hit Rubio hard on his continued support of Trump and for his positions on climate change.
"If you want hope instead of fear, you will elect Hillary Clinton as president of the United States, Patrick Murphy as senator," Obama says. "We'll continue what we started eight years ago."
Obama did not address the
recent controversy
the Clinton campaign was embroiled on Friday when FBI Director James Comey told Congress his agency was reviewing new emails related to Clinton's personal server found during an investigation into former congressman Anthony Weiner. Clinton said she was "confident" this email probe would not change the conclusion reached earlier by the FBI.
While it's hard to say whether this new information will affect the choice of millennial voters, young people at Friday's rally say they're ready to vote for Clinton. Regan Schwartz, a recent graduate of UCF, says he thinks about 80 percent of his peers are voting in this election. He's not sure for who, but he thinks the majority will choose Clinton.
"I think I definitely liked Obama more, but today as a whole pushed me toward voting for her, as opposed to just voting against Trump," he says. "Even though she wasn't here, you could feel the support for her."
Kyle Huneycutt is on the tail end of the millennial age group, but says he still felt the Bern and voted for Sanders in the primary. Huneycutt says Sanders' influence has gotten Clinton to a position where he feels comfortable supporting her.
"We've got to look at the choices that we have, and we've got to make the best choice out of what we've been provided with," he says. "I think Hillary has the experience and the temperament to make it happen and potentially be a great president."
Photo by Monivette Cordeiro