It's Halloween night! You're having people over, you're trying to get sloppy-drunk and scare trick-or-treaters coming to your door, whatever. Here are three creepy drinks you can make fast.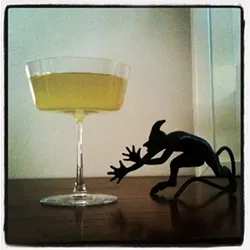 photo by Jessica Bryce Young
Corpse Reviver No. 2
Corpse Reviver No. 2
There's no cocktail more appropriate for Halloween than this 1920s classic.
Costume to wear while drinking
:
Morticia and/or Gomez Addams
1 ounce gin
1 ounce triple sec
1 ounce
Cocchi Americano
1 ounce lemon juice
dash of absinthe
Rinse a chilled cocktail glass (a martini glass or coupe) with the absinthe: pour in a dash, swirl it around to coat the glass, and dump out any leftovers. Pour the first four ingredients into a cocktail mixer with ice and shake thoroughly, then strain into the coated glass.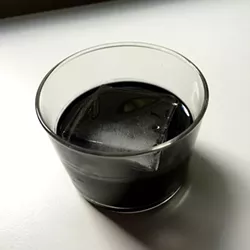 photo by Jessica Bryce Young
Blackest Russian cocktail
Extremely Black Russian

Our Remixed recipe for the '70s classic makes an extremely creepy quaff.
Costume to wear while drinking
:
corpse paint, death metal band T-shirt
1 1/2 ounces vodka (preferably Tito's)
1 ounce coffee liqueur (Kahlua or other)
1/2 ounce Cruzan Blackstrap rum
2 capsules
activated charcoal
(available at any drugstore)
Empty the charcoal capsules (carefully!) into a mixing glass; wear an apron or something black just to be on the safe side, stain-wise. Then add the liquors and a few ice cubes to the glass and stir. Strain (carefully!) into a glass over a large piece of ice. Brutal.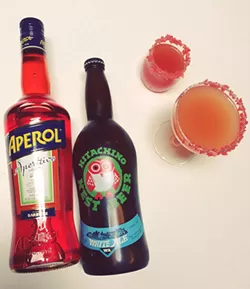 photo by Jessica Bryce Young
Pop Rocks Pop-a-Shot
Pop Rocks Pop-a-Shot
Because CANDY. For a cocktail instead of a shot,
see recipe here
.
Costume to wear while drinking
:
"the '80s"
honey
Pop Rocks candy packets
bourbon
Aperol
ginger ale
shotglasses
Pour the honey into a saucer and let it spread to a greater diameter than your shotglasses. Open and pour the Pop Rocks into another saucer, also spreading them out. Dip shotglass rims first in honey, then in Pop Rocks (you may hear some premature popping).
In a mixing glass, a pitcher or a measuring cup with a pouring spout, combine equal parts bourbon, Aperol and ginger ale. Carefully pour into the shotglasses, being careful not to knock off the candy.
Lick the Pop Rocks off the rim, then toss down the shot. Explodey!