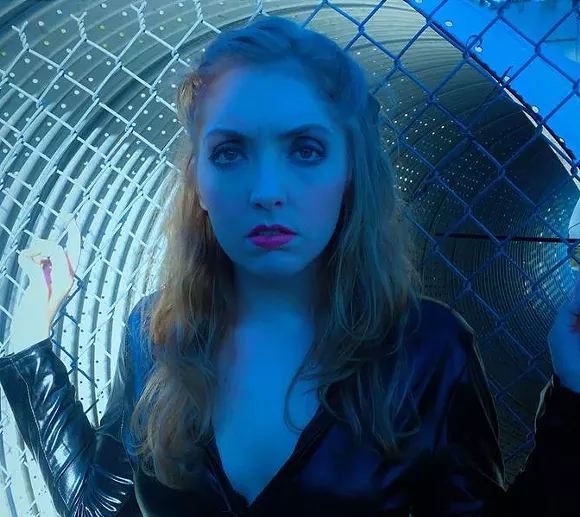 Photo via Jaime DeHay/Unseen Images Theatre
Brenna Arden stars as Joan in 'Far Away' at the Venue
Just in case our current election season hasn't already sent you crawling deep into a cave to cry, Unseen Images Theatre presents Caryl Churchill's apocalyptic vision of our violent future at the Venue this weekend, offering a faintly fictionalized preview of the fascism we may find ourselves sprinting toward after Tuesday's vote.
Far Away
lacks the depth and scope of Churchill's full-length feminist classics like
Top Girls
and
Cloud 9
, but the 45-minute play packs a lot of food for thought into its three brief acts, each capturing Joan (Brenna Arden) at a different phase of her life as a citizen stuck in an increasingly insane society. Arden impressively embodies Joan's evolution from an innocent child, through a self-involved adolescent artist, and finally into a fraying warrior armored in a Katniss Everdeen-worthy catsuit, recounting children and animals she's assassinated in a repulsive yet riveting ritualistic rhythm.
With her deeply expressive eyes and nuanced line readings, Arden brings Joan's emotions to the forefront, humanizing the script's somewhat heavy-handed political allegories. Her co-stars Amanda Hudson-Giese (as Joan's Aunt Harper, who first indoctrinates her into accepting abuse and oppression) and Charlie Wright (as Todd, a fellow milliner making hats for parades of condemned prisoners) take a more presentational approach, flatly monologuing around Joan for a Brechtian effect. There's a similar tension throughout director Jamie DeHay's production: The stage pictures are prettily posed but stiffly static, while over-long blackouts and unnecessary scenery shifts slam awkwardly up against well-crafted moments of brutal beauty.
This brief play isn't quite substantial enough to stand by itself, but Unseen Images has wisely paired each performance with a spirited post-show talk-back that turned out to be just as long and lively as the show itself. DeHay and his cast are joined by various guests (Democratic precinct chair Wes Hodge on the night I attended) for a discussion of the current political parallels, provoking strong responses from the assembled audience.
Churchill's agenda is complex –
Far Away
is as much an indictment of left-wing acquiescence as it is of right-wing authoritarianism – and so are the feelings it can evoke. But if ever there was a time for art warning against divisive demographics and partisan allegiances, it is right now.
Unseen Images Theatre presents
Far Away
by Caryl Churchill
The Venue, 511 Virginia Drive
8 pm Friday Nov. 4, 10 pm Saturday Nov. 5, 2 pm Sunday Nov. 6
Tickets are $18 and can be purchased at
orlandoweeklytickets.com