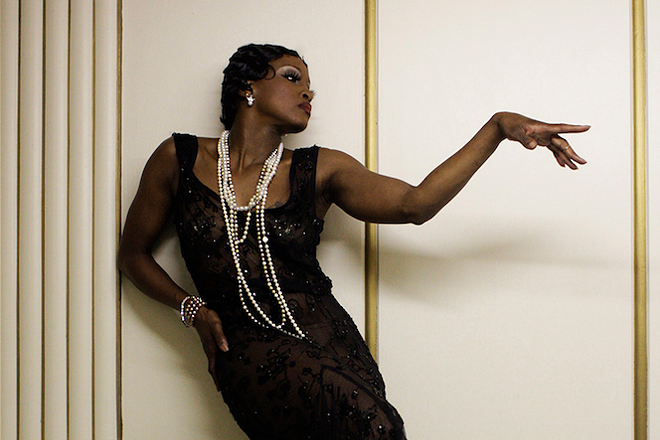 Tymisha Harris as Josephine Baker | Photo by Von Hoffman, courtesy of Michael Marinaccio
In an era when seemingly every white male of marginal historical importance has received his own hit musical, it's a crime that Josephine Baker – triple-threat performer, civil rights pioneer, sexual iconoclast, and once the richest black woman on the planet – has only a forgotten 25-year-old TV movie in her memory. If there's any justice, that will all change once the world gets an eye- and earful of Tymisha "Tush" Harris embodying the legendary artist in Tod Kimbro's magnificent "burlesque cabaret dream-play"
Josephine
.
Kimbro's musical play blends period song and dance routines with direct-address monologues and audience interactions, as Harris recounts Baker's journey from Missouri poverty and exploitation (she was married twice before she turned 16) to Parisian high society and Martin Luther King's March on Washington. Harris makes the audience feel Baker's pain and pride at every turn, both through songs – highlighted by a heartbreaking rendition of "Bye Bye Blackbird" and a stirring slowed-down reinterpretation of Dylan's "Times They Are A-Changin'" – and heartfelt soliloquies.
Director Michael Marinaccio showcases Harris's talents to a T, drawing focus to her physicality through banana skirts, fan dances, and frequent on-stage costume changes, while simultaneously making certain the audience sees her as (in Baker's words) "more than just another black ass on display." His lighting design is also lovely, utilizing color changes to signify shifts in time and perspective and creating a striking shadow-play effect during the elegiac finale. Harris work with Varietease and Universal established her as one of Orlando's best singer/dancers, but under Marinaccio's direction she gets to demonstrate her considerable acting chops as well, digging deep into the sadness beneath Baker's sunny showbiz exterior.
Josephine
premiered at the San Diego Fringe in a slightly altered form, and I've observed marked improvements since a recent workshop performance. The brief debut Orlando run ends Monday and is already almost sold out, but I have a hunch that Harris and
Josephine
will be back and are bound for bigger things.
Josephine, a Burlesque Cabaret Dream-play
by Tod Kimbro
The Venue, 511 Virginia Drive
8 pm Saturday, Nov. 5 (sold out); 9:30 pm Monday, Nov. 7
Tickets are $15, purchase at
brownpapertickets.com