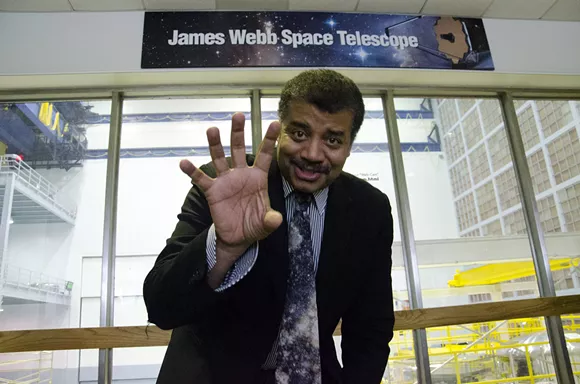 Photo via NASA Goddard Photo and Video/Flickr
Did you ever wonder what it would be like to go to the movies with a world renowned astrophysicist? You can now have the chance as Neil deGrasse Tyson will speak at the
Dr. Phillips Center
for the Performing Arts in Orlando on Nov. 15.
Tyson, the first honored guest for the newly created OUC Speakers Series at the Dr. Phillips Center, will review how movies such as
Star Wars
,
Frozen
and
The Martian
missed the mark completely combined with some of the stuff they got right among other topics.
You may have seen him on Fox's Cosmos reboot in 2014, or on StarTalk on National Geographic, or read his best-selling books
Death by Black Hole
and
The Pluto Files: The Rise and Fall
of America's Favorite Planet. Tyson, a popular figure in modern science, is known for both his profound yet understandable explanations about the universe.
The event, which is SOLD OUT, is scheduled to start at 7:30 p.m. on Tuesday, Nov, 15.