President Obama made a case for Hillary Clinton in Kissimmee this weekend to the formidable wall of Latino voters who have mobilized to stop Donald Trump from reaching the White House.
Through Saturday in Florida, Latinos cast about 14 percent of the 5.7 million early and absentee ballots cast, according to
Politico
. The
Miami Herald
reports 565,000 Latinos, double the amount from the 2012 election, had already voted early in person before the last day of early voting on Nov. 6. If Latinos end up deciding the election, it will be a strong rebuke to the rhetoric of the Republican presidential nominee, who
started
off his campaign by disparaging undocumented immigrants, saying Mexico was "not sending their best" people but instead, rapists and drug smugglers.
Noelia Cruz, a millennial with Mexican heritage from Volusia County, came to see Obama speak on Sunday. She says Mexicans and other Latinos in Florida will stand up in this election to say no to Trump.
"It's just not right that somebody else can mistreat us, degrade us and strip us of our human dignity by telling us to go back to the country we came from or telling us that they're going to build a wall," she says. "It comes down to being human and that's just inhuman."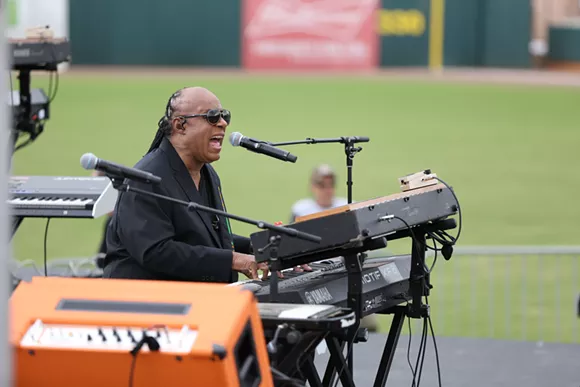 Speaking to a mostly Latino and African-American crowd of 11,000 at Osceola County Stadium after a warm-up from the legendary Stevie Wonder, Obama says the Democratic presidential nominee needs to win the critical swing state.
"All the progress we've made goes out the window if we don't win this election," Obama says. "And we win this election if we win Florida. If we win Florida, it's a wrap. We win Florida, it's over."
Photo by Monivette Cordeiro
The president took several swipes at Trump, calling him "temperamentally unfit to be commander-in-chief."
"Apparently his campaign has taken away his Twitter," Obama says with a chuckle. "In the last two days, they had so little confidence in his self-control they said, we're just going to take away your Twitter. If somebody can't handle a Twitter account, they can't handle the nuclear codes."
While he may not be on the ballot, Obama says his accomplishments and legacy are up for a vote this year.
"Civil rights is on the ballot," he says. "Our democracy is on the ballot. Hillary Clinton, she'll build on the progress we've made, but you have to vote."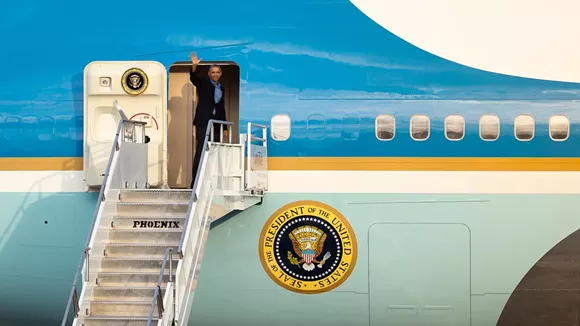 Obama ended his remarks in Kissimmee with a call-to-action for voters that harkened back to his first presidential campaign in 2008.
"When you vote, America is transformed," the president says. "When you vote, we cannot lose. When you vote, we reject fear. When you vote, we embrace hope. Choose hope! Choose hope! Choose hope!"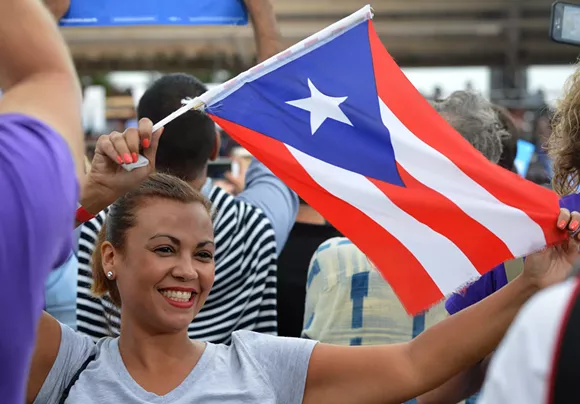 Photo by Monivette Cordeiro
In Osceola and Orange counties, Democrats are counting on
Puerto Rican voters
to come out en masse for Clinton. For the past two years, thousands of Puerto Rican families have left the island due to the financial crisis and resettled in the "swing part of the swing state," the I-4 corridor.
Unlike other Latinos, Puerto Ricans are already U.S. citizens and can vote in Florida after they fulfill the 30-day residency requirement. Aside from deciding the 2016 election, the "most powerful Puerto Ricans in the world," as NPR's Latino USA host Maria Hinojosa calls them, could also elect the first Puerto Rican from Florida to Congress, state Sen. Darren Soto.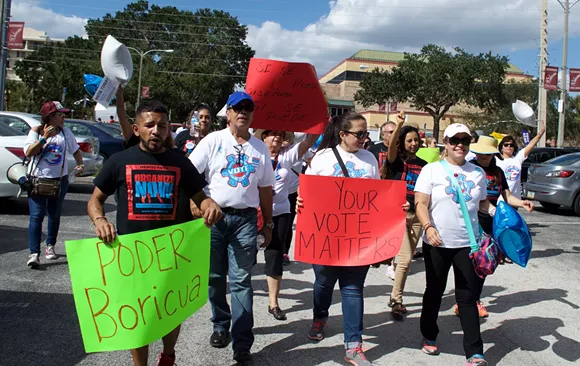 Photo by Monivette Cordeiro
Earlier in the weekend, organizers with the Que Vote Mi Gente coalition, Service Employees International Union and Vamos4PR joined together in Kissimmee for a rally to get out the Puerto Rican and Latino vote.
"We will decide not only the future of Florida, but of our country and of the homeland we left," says Christina Hernandez, organizer with Que Vote Mi Gente, to a rally crowd of about 50. "We're building lives, not only for families here, but for families and friends we left behind on the island."
As they walked down the streets of downtown Kissimmee toward the city's civic center, they chanted in Spanish, "Here we are, and we're not leaving! Here we are, and we're not leaving!"