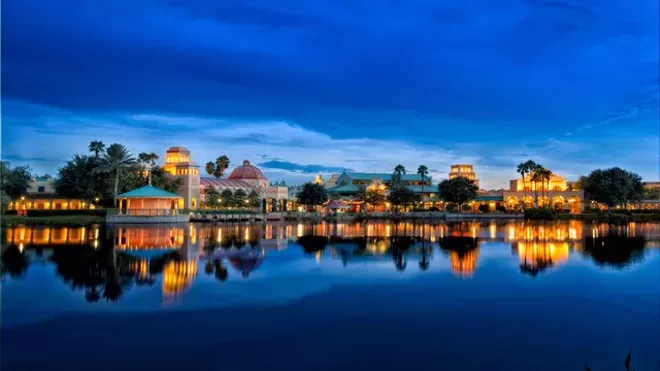 Coronado Springs Resort via disneyworld.disney.go.com
Disney recently filed a permit (48-00714-P) with
the
water management district
that indicates a new expansion of some type at Disney's Coronado Springs Resort. While the permits only indicate an expansion of impervious areas at the resort, rumors points to an expansion of the convention center.
The retention pond expansion is in a wetland area near the current convention center. This undeveloped pad, located near the main lobby, has also been rumored as a new Disney Vacation Club tower, but the more likely scenario is this convention center gets an expansion so that DVC can be developed at other, more desirable location.
DVC has been rumored to be expanding to various resorts, including Moderate resorts, but it looks like
the Caribbean Beach
will be the first Moderate resort to receive a DVC component.
Back in August,
we shared news on a rumor
that a second Bay Lake Tower may be coming to the Contemporary. At that time, the rumor mentioned that the convention center at the Contemporary was feeling rather dated. While the core part of the original and historic convention center, located within the iconic A-frame building now looks to be safe (albeit, with non-convention uses), the 1991 convention center now looks to be on the chopping block. While one of the most popular convention centers at Disney World, transportation woes, outdated design and demand for Magic Kingdom views makes the convention center at the Contemporary a logic asset to kill off.
As in August, the most likely location for the new Bay Lake style tower is the southern Garden Wing but now there does seem to be more rumblings of both the Southern Garden Wing and the convention center
will be replaced
with a major updating to the 1971 hotel. A new entrance plaza, updated lobby, and even private cabanas all seem likely as part of this update.
The Yacht Club convention center is already in the
midst of an expansion
, which is viewed as part of the shift away from the Contemporary's, but it won't nearly be enough to offset the demand. That's where this new "impervious areas" at Coronado Springs comes in. Already a major convention hotel, any expansion of the convention center at Coronado Springs would be logical. The resort is located near
Animal Kingdom
, the Wide World of Sports and Disney World's major convention district circling Crescent Lake. Coronado Springs could also see an expansion of its resort offering that currently includes the
Rix Lounge
, one of the few remaining nightclubs on WDW property.
By having fewer but larger convention centers Disney can attract larger, more profitable conventions while cashing in of guest demand for resort views around Seven Seas Lagoon. If past projects at WDW are any indication and with drainage permitting just beginning it will likely be some time before we have any official indication of what these new retention ponds really mean.