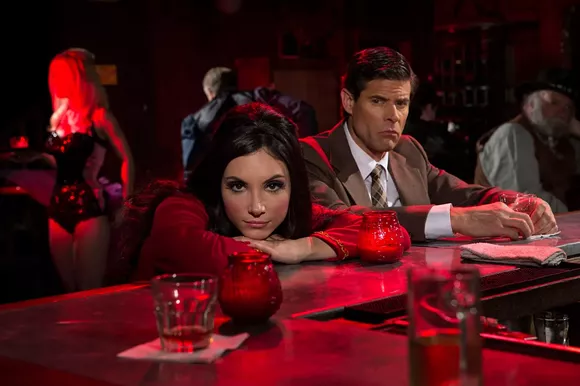 Like many people across the country right now, you may be feeling the need for some escapism. Getting out of Dodge. Dropping out, turning on, tuning in. Yes, I'm using some '70s metaphors, because
The Love Witch
(
opening in Miami on Friday, Nov. 18
, and well worth a road trip) is a juicy, satirical paean to all the cheesy '70s sexploitation and horror flicks you secretly love. Filmmaker Anna Biller's candy-colored anachronistic pastiche feels like a made-for-TV movie from 1974. But there are also Easter eggs from other eras: references to 1990s-era Wicca and to feminist film icons ranging from
The Stepford Wives
to
The Accused
.
The film opens with a classic retro shot: a red sports car winding through the California Hills. CU on the driver, Elaine (Samantha Robinson), a raven-haired sex kitten in bright blue eye shadow. Her voice-over says she's starting over after a breakup and nervous breakdown; flashbacks show her husband dead on the floor. Already we know this femme fatale is both victim and victimizer. "According to the experts," she says, "men are fragile." Elaine's
raison d'être
at the moment is finding the perfect man and using witchcraft to do it.
Yes, Elaine is a witch, and haven't we been reading an awful lot about
witches in the media
lately? The
backlash to the "nasty woman" comment
during the presidential debate saw many writers examining the preponderance of witch imagery used both to characterize Hillary Clinton, and to represent what some saw as the righteously angry rhetoric of feminists looking to smash the patriarchy.
And now, in this Brave New World, the figure of woman as witch is even more apt; for we are now being Othered in ways reminiscent of 17th-century witchcraft hysteria. How dare we take umbrage at casual jokes about sexual assault! How dare we call out slut-shaming! I keep expecting to see
Kramer and Sprenger
added to the president-elect's cabinet shortlist. Those 16th-century witchhunters famously stated, "All witchcraft stems from carnal desire which is in women insatiable." We're returning to a time of virulent misogyny that wants to objectify, ridicule and denounce women for any attempt to transcend the status quo. What the fuck is going on?
The Craft
(1996), we see the earth-positive vibes of modern witchcraft, but also the dangers of dabbling for selfish reasons. As with
Practical Magic
(1998), we're exposed to the enchantment of herbal potions and love spells, but with naughty ingredients like menstrual blood, and we also see that such workings can wreak havoc. As with
Buffy the Vampire Slayer
, in which Wiccan Willow, despondent with grief, unleashes a cosmic wrath on the world, we see that women who are pushed too far are capable of awesome destruction. (That trope informs 1976's
Carrie
too, whose bullied heroine comes into her telekinetic powers and, drenched in pig's blood, goes on a rampage that destroys her town.)
Biller (writer, director, producer, editor, production designer and costume designer of
The Love Witch
) did her research into modern witchcraft, modeling her authentic scenes of ritual upon ceremonies she herself attended and having her actors watch videos of real-life occult leaders.
"I considered the pagan community very heavily in making this film," Biller says in a phone interview. "I wanted to create a femme fatale character who embodies all the stereotypes and contradictions of female consciousness. Witches embody power and dignity but also contain all these crazy male projections about sexuality and evil."
Despite a few malevolent plot elements that might make some real witches (like me) raise their eyebrows, Biller says she originally wanted to have the storyline unfold in a much darker way. "How people respond to the portrayal of witchcraft will be I think a kind of mood ring or litmus test depending on who's watching: Is Elaine just a victim of patriarchy, or is she evil and bent on creating chaos?"
Similar ambiguity of viewpoint could apply to Robert Eggers' excellent historical drama
The Witch
, released earlier this year. The main character's family turns against her amid an atmosphere of witchcraft accusations. But was she really under the devil's spell, seduced by a golden-eyed black goat? Or was she just fed up with being treated like chattel?
So how does
The Love Witch
fit into the witch zeitgeist? For savvy viewers, its insider vibe may be a breath of fresh air. The absurd skewering of post-feminist psychology may also prove refreshing. I expect some controversy from the pagan community, but I welcome it. Beyond its sociopolitical implications, the film is a delightful aesthetic experience, and its stylistic emulation of the thrillers of its era is so dead-on it's almost unsettling.
The Love Witch
is arty, sexy, gorgeous and hilarious. At a time when so many are feeling bereft, this film lets us live deliciously, if only for two hours.
Peg Aloi is a film critic and academic whose blog, The Witching Hour, explores the portrayal of witchcraft in media.