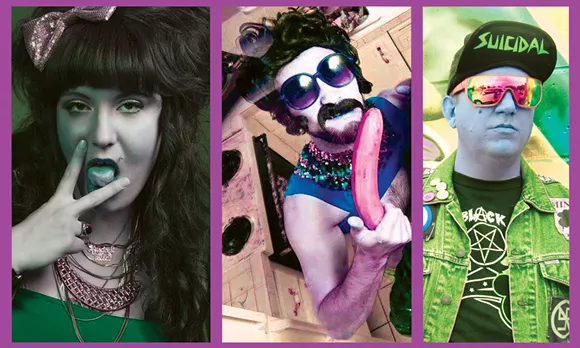 Welcome to
Orlando Weekly
's "Band of the Week." Every week, we highlight one of our favorite local bands. This week, we're pleased to bring you
Luscious Lisa
.
Luscious Lisa
is playing
Will's Pub
on
Saturday, Dec. 3
, the second night of the two-night "
1996 - a two night event celebrating music & culture from the year
" event. The shows will also feature The Pauses, Fictions, Everything is Terrible!, Overdale, Expert Timing, DJ Prom Nite, and DJ Smilin' Dan paying tribute to the sights and sounds of 1996. Check
willspub.org
for the lineup for each night.
Just the facts:
Who's in the band?
Luscious Lisa - lead vocals, production, sex appeal.

Scotty Pizza - drums, bass, guitar, piano, harmonica, maracas, church organ (giggity), hand claps, tambourine, hypeman, garbage bag, otherwise…

Shakes Vanilla - DJ, Technical Director

When did the band form?
The band formed when Luscious Lisa rescued a young Scotty Pizza from a garbage can in 2009. They began writing music, and started performing in 2012 with additional members DJ Shakes Vanilla, and Dick McTits on drums who left in 2013 to pursue the career of a professional vagabond.
Currently available releases:

A Lot Like Pussy
(2013) - available on
iTunes
Ladychat
EP (2015) - available on
Bandcamp
Websites:
Facebook
Bandcamp
Describe your sound in five words:

Shoop, The, Sex, And, Kween
Five questions:
What has been your most memorable show so far?

Opening for Afroman at Cafe DaVinci in Deland for the first time. Our first ever sold out show.
Which local band is your favorite one to play a show with?

American Party Machine. Because when they sing about riding Space Mountain, you know that they mean it.
What description gets used for your band that you would most
like to correct people on? Why?
Luscious Lisa:
That we are somehow a comedy band/act. We are a socially forward band that writes lyrics that promote acceptance and confidence for issues like body image, sexuality, gender, etc. My lyrics pertain to my own female sexual power and you should never confuse a woman's promiscuity or open mind as consent or desperation. We just happen to be hilarious to boot ;)
What's your favorite thing about being an Orlando band? What's your least favorite? Why?
Scotty Pizza:
My least favorite part is that bars aren't open 'till 6 a.m. My favorite thing is the overwhelming response from the LGBTQ community. Nothing can be harder than accepting your own sexuality. The fact that it is so hard to be accepted is my only motivating factor in this band.
Any big news to share?

We have a new album and our first music video coming next year.