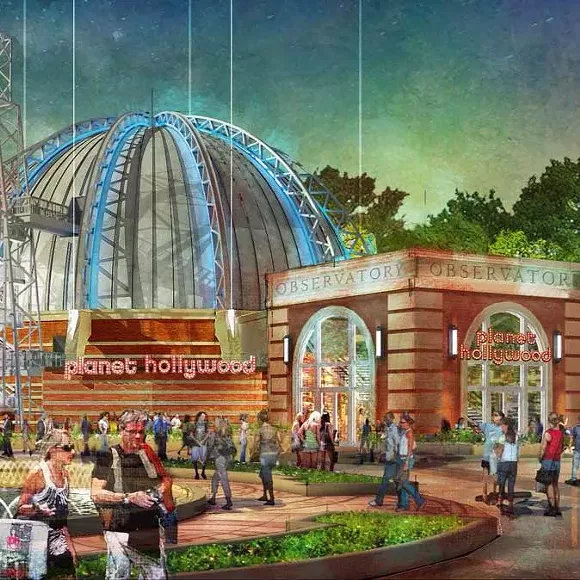 Planet Hollywood Observatory
As part of the major overhaul that transformed Downtown Disney into Disney Springs, Planet Hollywood is getting a major facelift renovating into the Planet Hollywood Observatory.
The new Observatory will have an entirely new look, inside and out, and a new brand new menu. The
flagship Planet Hollywood
is getting a major update that will include an outdoor dining deck, a 4,500-sq. ft.
video
wall, brand new movie memorabilia and live DJs and musical guests every night.
All of the latest food trends will be featured on the menu including the over-the-top milkshakes like what Toothsome's at Universal has. The observatory theme continues with the menu items having fun names such as the Planet Melt Down (a hard-shell chocolate dome that is melted tableside to reveal chocolate fudge cake inside of it) and Strawberry Borealis milkshake. Celebrity Chef Guy
Fieri will have two sections
of the menu where he'll showcase massive burgers, "Big Bite Burgers," and over-the-top sandwiches, "Knuckle Sandwiches."
Other
new menu items
include a citrus and kale salad, Sesame Ginger Salmon, and a 20-ounce Bone-In NY Strip that's meant for sharing. Popular items from the former menu, such as the L.A. Lasagna and the World-Famous Chicken Crunch, will be returning as well.
If eating Guy Fieri designed burgers while enjoying a milkshake topped with an entire piece of cake appeals to you, you're in luck! The Planet Hollywood Observatory is now taking reservations starting January 3rd, 2017. No official hours have been listed yet but
reservations are being accepted
from 11AM-10:45PM daily. That would line-up with the former hours.
And don't worry, while the giant alligator topped gift shop kiosk is now gone a new gift shop, filled with all of the latest Planet Hollywood merch, should be open by January as well.