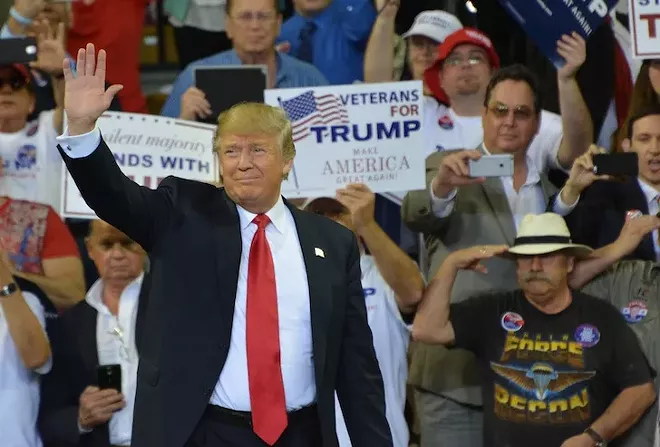 In the 10 days after Donald Trump secured the presidency, people across the country reported 867 hate incidents, including 37 instances of harassment and intimidation in Florida, according to a
report
released Tuesday by the
Southern Poverty Law Center
.
The most common type of motivation behind these hate incidents was anti-immigrant sentiment, with about 280 incidents or 32 percent of all incidents. The Southern Poverty Law Center says it gathered the data from media reports and submissions to their website.
"Following a campaign in which promises to build a wall between Mexico and the United States were frequently touted, anti-immigrant harassment was the most reported type received, frequently overlapping with over forms," the report says.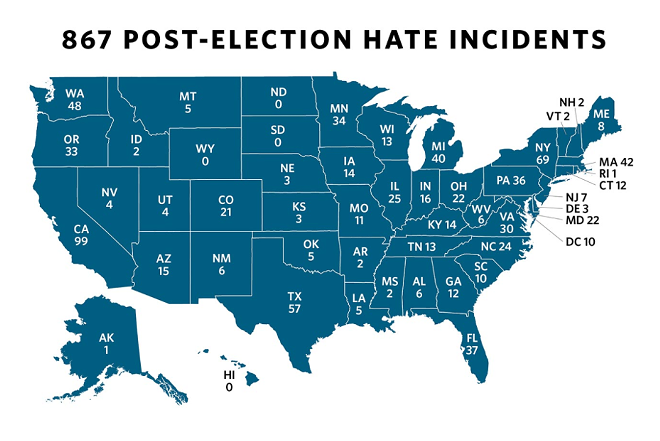 After anti-immigrant sentiments, the top motivations for hate incidents were: anti-black sentiments, with 187 incidents; anti-Semitic sentiments, with 100 incidents; anti-LGBT sentiments, with 95 incidents; and anti-Muslim, with 49 incidents. The Southern Poverty Law Center says it also counted 23 anti-Trump incidents, though there were far fewer amounts of this harassment compared to others. The report also highlighted three individual incidents in Florida, including:
- An argument over a crosswalk in Punta Gorda where a woman told a Hispanic family they "should all be deported."
- A teacher in Wesley Chapel who was scolding black students and told them, "Don't make me call Donald Trump to get you sent back to Africa."
- A 75-year-old gay man in Sarasota who was pulled out of his car and beaten by a person who told him, "You know my new president says we can kill all you faggots now."
Since Nov. 8, President-elect Trump said on the news show "60 Minutes" that he was "surprised to hear" his supporters were harassing people and told
The New York Times
he didn't know why his campaign had "energized" white supremacists.
"It's no mystery," the
report
says. "Both the harassment since the election and the energy on the radical right are the predictable results of the campaign that Trump waged for the presidency — a campaign marked by incendiary racial statements, the stoking of white racial resentment, and attacks on so-called 'political correctness.'"
The Southern Poverty Law Center calls on Trump in its report to "repair the damage that his campaign has caused," because until then, "the hate that his campaign has unleashed is likely to continue to flourish."