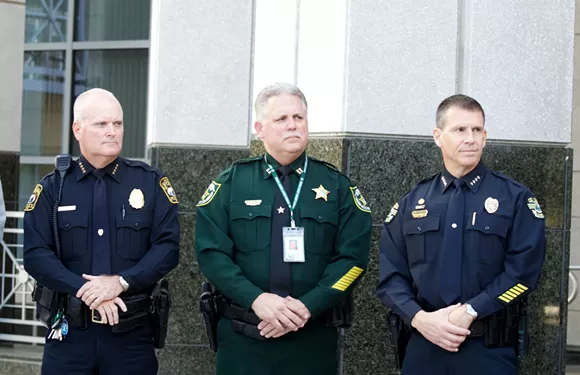 Photo by Monivette Cordeiro
Law enforcement officials from Orlando Police Department, Apopka Police Department and the Orange County Sheriff's Office.
Orange County law enforcement officials say they have increased the use of civil citations given to juvenile offenders who would have otherwise been arrested, but the county is still leading the state in the number of juveniles charged with a crime.
"Florida has historically had one of the worst school-to-prison pipelines in the country," says Deirdre Macnab, a representative from the Orange County chapter of the League of Women Voters. "[Civil citations] give our youth who commit non-violent misdemeanors a chance to improve their behavior without the baggage of an arrest."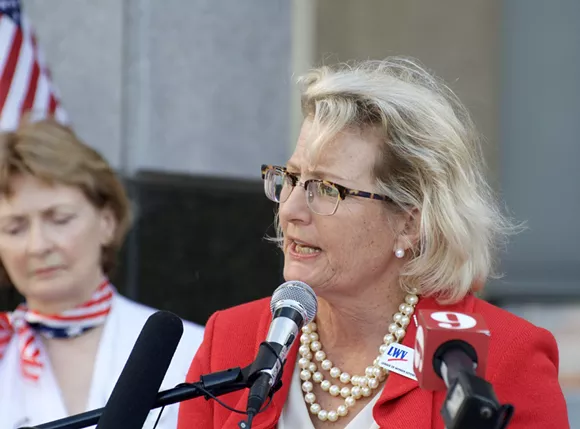 Photo by Monivette Cordeiro
Deirdre Macnab, above.
At a press conference on Wednesday, local police joined the League of Women Voters to highlight the fact that Orange County agencies improved the rate at which they were using civil citations. A civil citation is an alternative method for juveniles who will be charged with non-serious misdemeanor offenses, such as fighting at school or petty theft.
For the 2014-2015 fiscal year, only 17 percent of Orange County kids who were eligible for a civil citation received one, according to the
Florida Department of Juvenile Justice
. This fiscal year, 2015-2016, 34 percent of kids got a civil citation instead of an arrest.
But Orange County is behind other more populous areas this fiscal year, such as: Miami-Dade County, which gave citations to 91 percent of eligible juveniles; Broward County, which gave citations to 68 percent of eligible juveniles; and Palm Beach County, which gave citations to 59 percent of eligible juveniles.
Orange County also beat those areas and the rest of the state with 6,547 juvenile arrests for all offenses, including felonies, in the 2015-2016 fiscal year. The only other county that came close to that number was Hillsborough County with 6,078 juvenile arrests. Arrests overall in Orange County and the rest of Florida have decreased now for the past five years.
Photo by Monivette Cordeiro
John Mina
Orlando Police Chief John Mina, whose department have civil citations to 38 percent of eligible youth this past fiscal year, says increasing the use of this alternative method takes the community but also more training for police.
"We just did two [citations] this week," he says. "The officer mistakenly or, for whatever reason, filed charges with the state attorney's office. Our manager went down, looked at the paper work and said, 'Why don't you just give him a civil citation.' It's just a lack of training."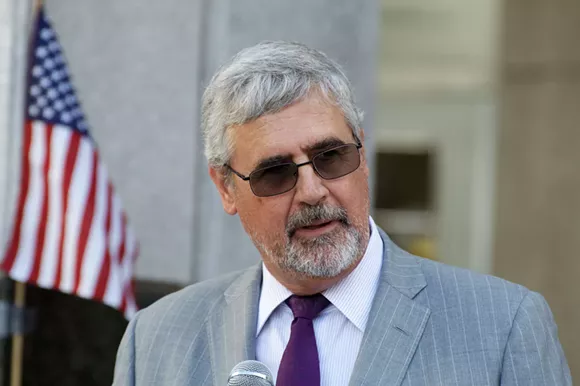 Photo by Monivette Cordeiro
Jeff Ashton
At the press conference, Orange-Osceola State Attorney Jeff Ashton says that while he's proud of the work his office has done in encouraging officers to use civil citations for juveniles, Miami-Dade County and its higher use of civil citations is not the "gold standard."
"Each community has it's own unique issues and problems," he says. "I just ask you to understand and trust these law enforcement professionals to understand the unique challenges of this community. I would just ask you to move away from the statistic."
Ashton says he doesn't know if civil citations are the only solution for juvenile offenders, citing a number of other diversion programs in Orange County.
Still, supporters of civil citations say it leaves juveniles with no arrest record compared to other methods, reduces recidivism and saves taxpayer dollars. Dewey Caruthers of the St. Petersburg think tank Caruthers Institute says if Orange County had given civil citations to all eligible youth between October 2015 to September 2016, the county could have saved anywhere from $1.3 million to $4.1 million. The state department of Juvenile Justice also encourages officers to use civil citations over arrests in the case of juveniles.