Photo via FuerzaFest
"Dualidad y Castigo," a play by Edwin Yumar Rosario, will be featured at FUERZAFest.
Almost six months after the Pulse tragedy, many organizations are still working to heal and bring attention to the communities that were hit the hardest by the massacre. The deaths of the 49 victims, many of whom were both Latino and LGBTQ, shined a light on this intersection of people and the ways in which they were still underserved and underrepresented.
FUERZAFest
, Orlando's first Latino LGBTQ festival, is trying to change that this week. Sponsored by Hispanic Federation, the five-day event from Dec. 7 to Dec. 11 celebrates the culture of victims and survivors with film screenings, a cabaret show, workshops, panel discussions, music and a one-act play competition John & Rita Lowndes Shakespeare Center.
Four independent theater groups will showcase plays across two days that revolve around LGBTQ issues and compete for awards. On Dec. 8 at 7 p.m., the theater will present "Mal Tiempo y un Poema Sombrío" by Eddy Díaz Souza and "El último bolero" by Cristina Rebull and Iliana Prieto. On Dec. 9 at 7 p.m., the theater will present "Dualidad y Castigo" by Edwin Yumar Rosario and "Cuando Duerme Conmigo" by Eduardo Román. Tickets, available
here
, are $20 for each night.
FUERZAFest kicked off its inaugural festival Wednesday with a panel discussion of ongoing barriers to acceptance of the queer community in society. The panel immediately pivoted to the recent presidential election of Republican businessman Donald Trump. During the campaign, Trump made small acknowledgements to the queer community, but the politicians he's recently appointed to his cabinet and Vice President-Elect Mike Pence have opposed LGBTQ rights in the past. Puerto Rican gay activist Pedro Julio Serrano didn't mince words when he said the LGBTQ community needs to start organizing before Trump takes office in January.
"We are in danger," he says. "And I want to say it like that because we need to be aware of what is happening...If you are different from a white heterosexual male, you are in danger. And I don't say this to alarm people, but we need to take care of ourselves."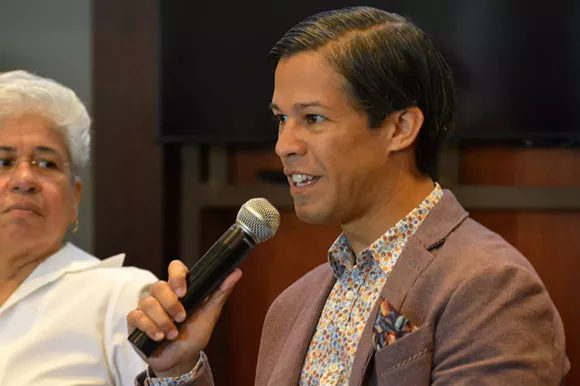 Photo by Monivette Cordeiro
Pedro Julio Serrano, above.
Nancy Rosado, a local activist who helped create
Proyecto Somos Orlando
to benefit Pulse survivors and victims' family, agreed with Serrano, saying the LGBTQ community had to be ready to fight for gains they made during the last eight years, like marriage equality and nondiscrimination protections for transgender people.
"The bottom line is this: We know what we're facing now," she says. "We have seen and we have heard. We cannot wait to see what happens. We have to organize now."
Proceeds from the events will go to
Somos Orlando
. Stephanie Piñeiro, a case manager with the organization, says the money will go to social services and efforts to provide transportation for Pulse families and survivors in need.
FUERZAFest's
final event
this Wednesday is a reception dedicated to everyone affected by the Pulse massacre at 5:30 p.m. in the Shakespeare Center along with a screening of the Argentinian movie "Esteros." Check out FUERZAFest's schedule for the rest of this week
here
.