Photo by Monivette Cordeiro
Orlando Torres says it feels like just yesterday he was attending candlelight vigils and funerals for his friends who died at Pulse.
On Monday night, the club promoter stood near the spot where six months ago he escaped the gay nightclub and where 49 people lost their lives in the mass shooting that started at 2:02 a.m. on June 12.
"Unfortunately, the 49 and their families are going to be without them this Christmas," he says. "But we're still moving forward, and as the saying goes, we're going to keep on dancing in their memory. I'm sure they're up there dancing in heaven with us down here."
On the six-month anniversary of the Pulse massacre, hundreds attended several vigils in Orlando to honor the 49 victims and 68 survivors of the tragedy.
Photo by Monivette Cordeiro
Joined by local officials and singers at the Orange County Regional History Center, Orange County Mayor Teresa Jacobs says the victims of the shooting will forever be in the community's heart.
"With each and every heartbeat of our community, these lovely lost souls will be our Pulse— Orlando's Pulse," she says between tears.
Pulse owner Barbara Poma tells the crowd her heart "feels the depth of sadness like it was yesterday."
"Where do we go from here?" she asks the crowd. "What do we do? We have only one way to go— forward."
"The Voice" contestant and Central Florida native Sisaundra Lewis sang "
Applause Applause
," a song she dedicated to the Pulse victims.
"Hands up to the sky," she sang as 49 people dressed in white angel wings filed in next to her, "Applause, applause for my angel. I bet you look so nice, all dressed in white, my angel."
Photo by Monivette Cordeiro
At Pulse, mourners crowded into the small parking lot of the building on Orange Avenue to sing songs, pray, cry and remember their loved ones. A pattern of candles was arranged on the floor along with 49 colorful cardboard stars with each victim's name.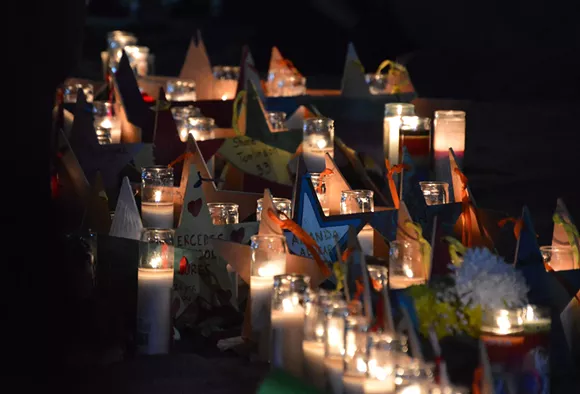 Photo by Monivette Cordeiro
The GLBT Center of Central Florida arranged for the 49 people dressed in angel costumes made of PVC pipe and white fabric to walk from the Orlando Regional Medical Center to Pulse. They stood watch with candles in their hands as mourners hugged them and cried in their arms.
Photo by Monivette Cordeiro
Torres says he hopes the tragedy helps people realize that everyone is human.
"We all hurt," he says. We all bleed. I just hope that people open their eyes and hearts a little bit more toward the LGBTQ community. It's a shame that it took 49 others to make a statement."