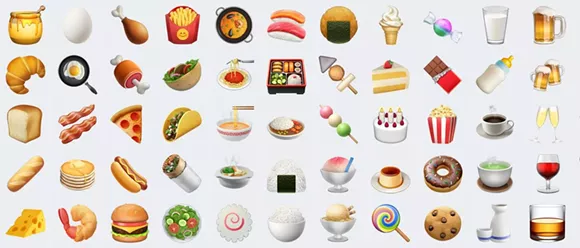 Check out that paella in the top row!
Finally, something that might tempt us to update immediately, before we hear about all the pitfalls — iOS 10.2 came out yesterday, and within it Unicode has released
72 new emoji
, and a significant serving of them are food-related. Either all that bitching about
whyyyy is there no taco emoji
finally convinced them WE NEED THESE, or someone in the food world is making payoffs to the Unicode Consortium, and frankly it doesn't matter which because yes lord we finally have an avocado emoji.
There's no toast yet, so you can't exactly make avocado toast — but there's a baguette AND a croissant to add to the plain old loaf of bread. There's also a whole egg (for those egg communications that don't specifically refer to fried eggs in skillets), a stack of pancakes, slices of bacon and a potato. Brunch texts just got easier.
There's ALSO a duck (not confit, but beggars can't be choosers), a pita sandwich, a kiwi fruit, a carrot (greens still attached) a sliced cucumber, some peanuts, a green salad, a spoon, and a paella!!! (They call it "shallow pan of food" but it's obviously paella.)
Texting about the service at a new bar or restaurant? There's a shrug, a drooling face, a nauseated face, and a facepalm.
And last, there's a gorilla emoji that is of course already being called "Harambe." Way to go, 2016.