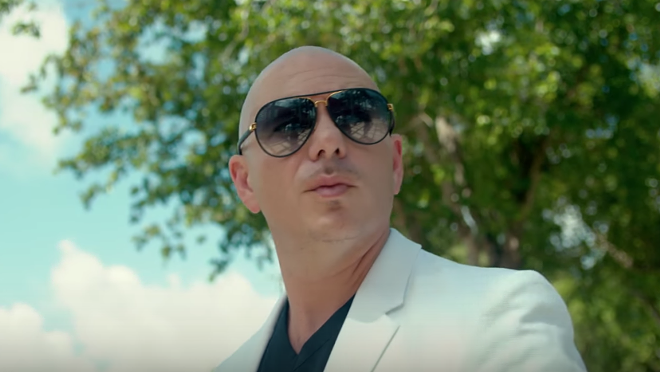 Florida House leaders are threatening to completely slash the $78 million budget for Visit Florida, the partially state-funded tourism agency that penned a highly criticized and undisclosed contract with rapper Pitbull, aka Mr. 305.
Pitbull, who's known for gems like "Your man just left / I'm the plumber tonight / Let me check your pipes / Oh, you're the healthy type," was signed as the official tourism ambassador to the state of Florida by Visit Florida in September of 2015.
Pitbull's duties included things like filming the video for his single "
Sexy Beaches
" on an actual Florida beach, and using the hashtag #LoveFL. The whole idea, says Visit Florida's president and CEO, Will Seccombe, was to lure millennials to Florida. Whether or not this goal was actually accomplished depends on who you ask.
Unfortunately, the actual cost of signing the Miami-based rapper to do these things was shielded from the public under a "trade secret" exemption from PDR Productions.
In fact,
almost the entire contract was blacked out
.
On Tuesday, December 13, speaker Richard Corcoran told
Politico
the House is considering forcing the production company into court to reveal how much that contract was worth.
"They're arguing that how taxpayer dollars are spent in this case are trade secrets and we disagree," said Corcoran to Politico. "The House is prepared to litigate this and we feel it's worth fighting this in court on behalf of taxpayers."
Governor Rick Scott, who was an early supporter of bringing on Pitbull, seems to have changed his mind. Scott took to
Twitter
Tuesday to rail against the lack of transparency in Mr. 305's contract.
Last August, Visit Florida did not renew their contract with Pitbull, who's known for memorable lyrics like, "Mami got an ass like a donkey with a monkey / Look like King Kong."