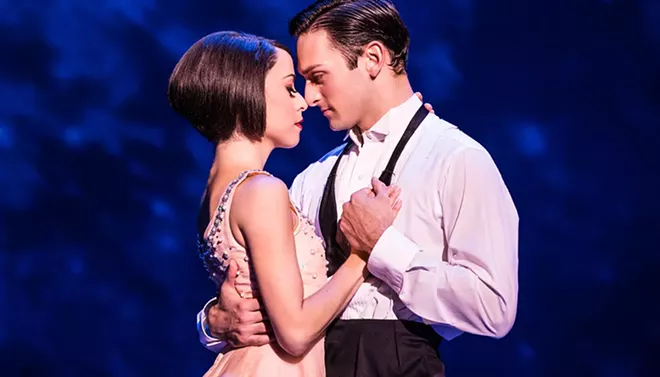 Photo courtesy Broadway Across America
Garen Scribner and Sara Esty in 'An American In Paris,' through Dec. 18 at the Dr. Phillips Center
The slate of shows in this past year's Fairwinds Broadway Across series has seen its share of ups and downs, but 2016 is ending on a high note thanks to the thrillingly transporting tour of
An American in Paris
. This Tony-winning adaptation of the 1951 Gene Kelly film weds classical jazz standards by George and Ira Gershwin with some of the most breathtaking dancing ever seen on the Dr. Phillips stage, or any other in Orlando.
The perfunctory plot follows American soldier-turned-sketcher Jerry Mulligan (Garen Scribner), along with his pianist pal Adam (Etai Benson) and their effete friend Henri (Nick Spangler), as they attempt to pursue artistic careers in post-Nazi Paris. All three covet the same comely dancer, Lise (Sara Esty), a love quadrangle that's further complicated by Milo (Emily Ferranti), an avaricious arts patron who sets her sights on Jerry. Craig Lucas' banal book ranges from mildly irritating in the first act to actively boring in the second, but no one attends the ballet for the dialogue.
As soon as director-choreographer Christopher Wheeldon has his performers stop talking and start moving, the show soars like a prima ballerina in pixie-dusted slippers. The primary players — particularly Scribner and Esty — are all spectacularly polished movers. Yet they happily avoid the punchy overemphasis that plagues many current Broadway performers, and the ensemble's seemingly effortless unity is equally unimpeachable. Formal ballet blends seamlessly into modernist pedestrian movement, scenes dovetail elegantly in flowing transitions, and the effervescent ensemble hardly seems to touch the ground until the talky-talky begins again.
Ordinarily, such a disconnect between the script and the spectacle would spell certain doom. But
American in Paris
' song-and-dance numbers – from "I Got Rhythm" and "'S Wonderful" to "Cuban Overture" and the titular composition – are so uniformly spellbinding in their flawless tributes to mid-century choreography that I'm not merely willing to overlook such a major flaw, but helpless to. And whenever the story's sexist, shopworn clichés take center stage, you can distract yourself by admiring designer Bob Crowley's couture costumes and impressionistic set, which is magically transformed by 59 Projections' projections in the best execution of digital scenery I've seen to date.
At its best,
An American in Paris
feels less like the product of modern corporate Broadway, and more like an artifact of high art from the last century, a cultural contemporary of Picasso and Nureyev. Just do your best to tune out the dialogue and dive into the dance.
An American in Paris
8 p.m. Wednesday, Dec. 14; 8 p.m. Friday, Dec. 16; 2 & 8 p.m. Saturday, Dec. 17; 1 & 6:30 p.m. Sunday, Dec. 18
Price: $48.75-$143.75
drphillipscenter.org