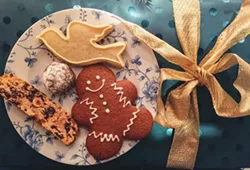 Cookies are surefire A-plus gifts, but if the idea of pulling out the stand mixer and cookie sheets has you all hot and bothered and you haven't even turned on the oven yet,
DoveCote
might be your answer.
The downtown French brasserie is taking orders for house-made holiday confections. Each box is filled with a dozen assorted cookies from six different recipes (listed below), or you could pay $2 more and customize your mix.
Gingerbread

Chocolate crinkle

Sugar

Buckeyes

Chocolate almond toffee

Rum balls

Get assorted cookies for $22 per dozen, $12 per half-dozen, or customize your mix for $24 per dozen, $12 per half-dozen. If this sounds like a route you wanna take, you'll need to give them 48 hours to fulfill your order. Email
info@dovecoteorlando.com
or call to order.
DoveCote

300 N. Orange Ave.
407-930-1700
dovecoteorlando.com