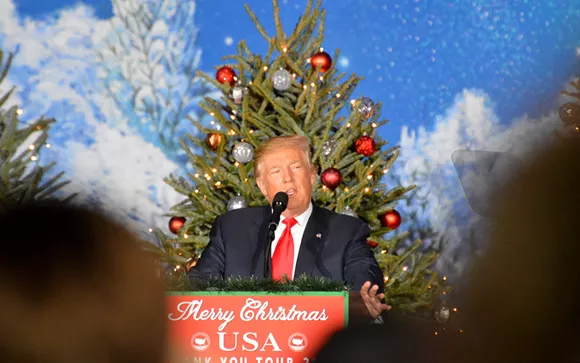 Photo by Monivette Cordeiro
President-elect Donald Trump spent the majority of his speech in Orlando on Friday night boasting and gloating about winning the presidency in a city and county where he was beat by Democratic opponent Hillary Clinton.
Speaking at the Central Florida Fairgrounds with decorated Christmas trees behind him, Trump did a state-by-state recount of his victory in front of a crowd of about 11,000 gathered for his "Thank You Tour."
"Remember, they said, 'He cannot get to 270. There is no path,'" Trump says, regarding the pundits who were surprised by his win. Later, he adds, "Did I blow them out in the Panhandle, or what? You know why? Because the Panhandle wants its jobs back."
Trump beat Clinton in Florida by a margin of 49 percent to 47.8 precent, but in Orange County, the former Secretary of State pummeled the Republican real estate mogul by a margin of 60.4 percent to 35.7 percent. In the Pine Hills precinct where Trump gave his speech, he only got 7 percent of the vote.
Photo by Monivette Cordeiro
More like a campaign rally than a post-election assembly, Trump's faithful supporters jeered the media, sometimes shouting "Fake news!" They broke into chants directed at Clinton, screaming, "Lock her up! Lock her up! Lock her up!" One man yelled, "Waterboard her!"
Trump didn't join the chants, but he smiled slightly, telling his supporters they were "vicious" in the days before the election.
"You people were vicious, violent, screaming, 'Where's the wall? We want the wall!'" he says. "Screaming, 'Prison! Prison! Lock her up!' I mean, you were going crazy. You were nasty and mean and vicious. And you wanted to win, right?"
The president-elect tried to tell the crowd they were different after winning, saying his fan were laid-back, cool, mellow and "basking in the glory of victory." But it wasn't long before they broke into another chant of "Lock her up!"
After reeling off a list of his campaign promises— building a wall on the U.S.-Mexico border, getting rid of Obamacare, renegotiating trade deals, banning flag burning— Trump briefly talked about the Pulse mass shooting that ended the lives of 49 people six months ago.
"The attack on Pulse nightclub in Orlando was the worst mass shooting in American history and the deadliest assault on the LGBTQ community," he says. "I am going to keep radical Islamic terrorists the hell out of our country."
Trump failed to mention Pulse shooter Omar Mateen was born in Queens.
Toward the end of his speech, the president-elect says he would "heal divisions and unify our country."
"We will bring our country back together," he says. "We will love everyone, not segments...When Americans are unified, there is nothing we cannot do. No task is too great, no dream too large, no goal beyond our reach."