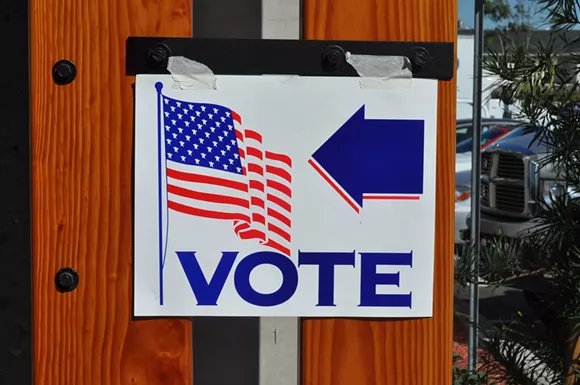 Florida may not gone through a hanging chad debacle during this presidential election, but a new
report
argues the state's voter policies are "radically out of step" with the rest of the country in regards to how it treats ex-felons.
The
Brennan Center for Justice
says more than
1.6 million
residents have lost their right to vote in Florida for virtually the rest of their lives due to an antiquated voting ban for people with past felony convictions, which represents more than 10 percent of the state's voting-age population. Ex-felons who've been released can't vote, hold office or serve on a jury in Florida, and those who would like their voting rights back must petition before the governor and a clemency board in a years-long process. Out of the group of a million and a half people who lost the right to vote, about one-third are black, even though African Americans make up just 16 percent of the state's population.
Erika Wood, the report's author and a professor at New York Law School, argues the restriction can be traced back to Jim Crow laws.
"Florida's criminal disenfranchisement law is rooted in some of our country's most discriminatory voting practices, and it continues to have its intended effects today," Wood says in a
statement
. "It is time for Florida to learn from the past and then leave it behind. The right to vote should not be used as a tool for lifetime punishment."
The report argues Gov. Rick Scott has made the clemency process more difficult during his five years in office by making it harder to apply and rolling back several rules implemented by former Gov. Charlie Crist, including an automatic restoration of rights for people with nonviolent felony convictions.
In 2009, under Crist, 24,537 people were approved for rights restoration, while in 2011, in Scott's first year as governor, only 52 applications were approved. A spokeswoman for Scott told the
Miami Herald
the governor "supports the current clemency process."
"Silencing 1.6 million voices is precisely the opposite of what democracy looks like," says Pamela Goodman, president of the League of Women Voters of Florida, in a
statement
. "These are citizens who have paid their debt to society, and have a second chance. They are living and working in communities across the Sunshine State. Just like everyone else, they should be able to have input on decisions that will impact them every day."