Photo by Monivette Cordeiro
State Rep. Carlos Guillermo Smith stands alongside Pulse survivors.
Several Pulse survivors joined Orlando lawmakers and gun reform advocates Thursday to make the case for a bill that would ban the sale of assault weapons and large-capacity magazines in Florida.
State Rep. Carlos Guillermo Smith and Sen. Linda Stewart, both Orlando Democrats, filed bills that make it a third-degree felony to sell or possess an assault weapon or large-capacity magazine, with exceptions that include one for gun owners who purchased a weapon before the bill is potentially passed. The proposal defines assault weapons as "any selective-fire firearm capable of fully automatic, semi-automatic, or burst fire at the option of the user," and includes a long list of specific models. The legislation is being supported by the Florida Coalition to Prevent Gun Violence, a group started by the League of Women Voters of Florida that now includes more than 100 organizations.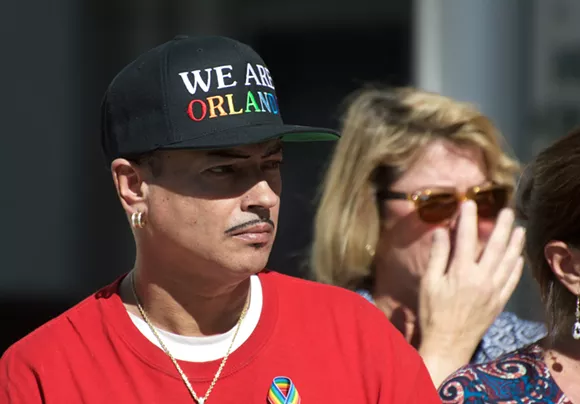 Photo by Monivette Cordeiro
Orlando Torres, survivor of the massacre and promoter at Pulse, listens to other survivors.
At an emotional press conference in Orlando, Angel Colón described how June 12 turned from a party of love and happiness at the gay nightclub Pulse to the "most terrifying night" of his life when Omar Mateen began shooting at patrons with a Sig Sauer MCX rifle, ultimately killing 49 people and injuring at least 53. Colón says he thought he had been shot three times but later learned he was hit six times in his legs and hips. He now uses a cane, and though he can't work, Colón says he's going to focus on the passage of the bill.
"Thank God my recovery is going very well, but it's very hard," Colón said. "It's very hard knowing that I'm here and that we lost 49 beautiful souls. … I think if we all work together, if we all unite, if we spread our love but fight at the same time, we can make this happen and pass this bill."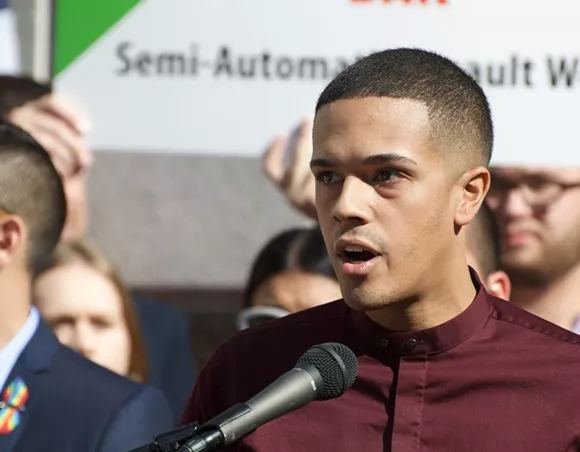 Photo by Monivette Cordeiro
Brandon Wolf speaks to the crowd about surviving the Pulse shooting and losing his best friends.
Brandon Wolf told the crowd he remembers sitting frozen in one of the nightclub's bathrooms as the gunman fired 30 rounds in a minute. Thirteen of those bullets hit his two best friends, Drew Leinonen and Juan Ramon Guerrero.
"We didn't just arm hate on June 12," Wolf said. "We militarized it. We handed hate an assault weapon and we said, 'Is that going to be cash or card?'"
Wolf says he knows that limiting magazine sizes and access to assault weapons is not going to stop violence in the world, but it's a clear signal that while hate can't be stopped, it can be disarmed.
"While we stood by and remained inactive, we were complicit in murder after murder after murder," Wolf says. "We served up moviegoers, nightclub patrons and even first-grade children as sacrifices to the gun lobby. … We are done being gunned down."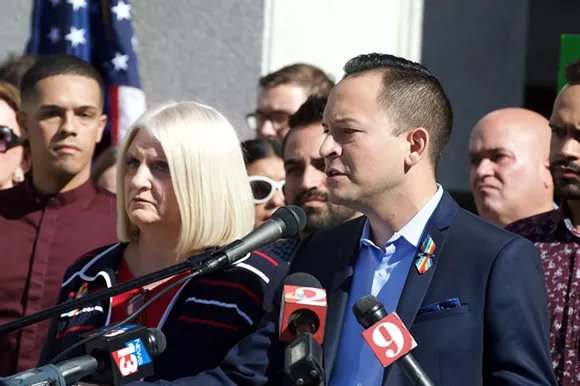 Photo by Monivette Cordeiro
State Sen. Linda Stewart and Rep. Smith answer questions from the press.
Stewart says her bill is not mean to ban guns or restrict the Second Amendment.
"We are not trying to take away your guns," she said Thursday. "But it is also worth mentioning that the people killed by gun violence every day have rights, too. The families and victims who will never be made whole again have rights, and they were stolen from them by a person armed with hate and with these weapons. … So long as criminals and madmen have access to them, we as Floridians are not safe. The time for talk is over. We have to act."
Smith recognized that it would be tough to push the bill through a Republican-controlled Legislature, but he hopes leaders in the state House will keep their promises to crack down on lobbyists and special interests, including the gun lobby.
"There's no question Tallahassee has been hostile to common sense gun safety measures for years and years," Smith says. "The gun lobby has had a stranglehold on process. … I hope the first special interest they crack down on is the gun lobby and the NRA."