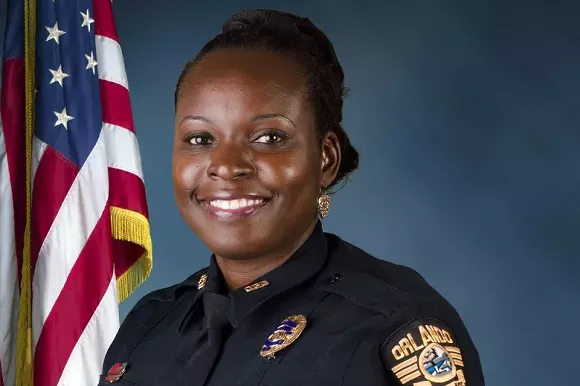 Photo via Orlando Police Department
Master Sgt. Debra Clayton
A
GoFundMe
account has been set up to benefit the family of Orlando Police Master Sgt.
Debra Clayton
, a 17-year veteran of the department who was fatally shot by a murder suspect when she tried to detain him.
The
fund
, created by Jay Carr, is on behalf of Seth Clayton, the fallen officer's husband. The
Orlando Sentinel
reports the couple had been married for about a year. The fund's goal is $10,000, and so far, the public has raised a little more than $7,000.
"We will get through this together," the GoFundMe account says. "At this time, we ask everyone to please pray for Sgt. Clayton's family during this very difficult time. All funds received will go directly to the husband of Master Sergeant Clayton to be used for his families' expenses."
Orlando Police are still searching for Markeith Loyd, the suspect accused of gunning down Clayton after she attempted to stop him at the Walmart on John Young Parkway and Princeton Street. Loyd is also accused of allegedly shooting and killing his pregnant ex-girlfriend Sade Dixon in December. OPD is offering a $60,000 reward for information leading to his arrest.