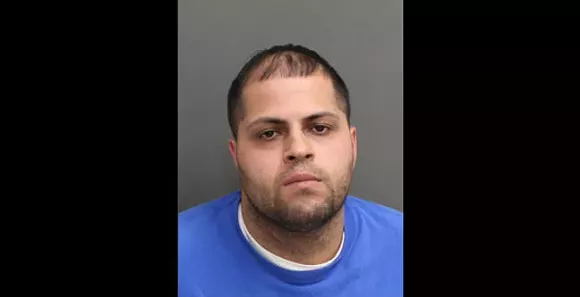 Photo via Orange County Sheriff's Office
Orlando resident Zarghee Mayan was arrested Tuesday for aiding
Markeith Loyd
, who is still on the run and wanted for the murder of both Sgt. Debra Clayton and his pregnant girlfriend.
Mayan was arrested Tuesday night by the Orange County Sheriff's Office and charged with being an accessory after the fact to first-degree murder.
Mayan was the first person to be arrested after Orlando Police Chief John Mina said Tuesday that arrest warrants were being made for anyone assisting Loyd.
According to the affidavit, Mayan helped Loyd avoid authorities despite knowing he was wanted for the murder of his pregnant girlfriend Sade Nixon on Dec. 13. Authorities say the two spoke on Dec. 14.
Zarghee was also
arrested in 2011 for aggravated battery with a deadly weapon
after he attacked a Texas Fried Chicken employee with a two-by-four.
Authorities are now offering $100k
for any information leading to the arrest of Loyd, who is considered armed and extremely dangerous.