THIS LITTLE UNDERGROUND

Sensationalist Houston rapper
Riff Raff
(Jan. 13, Backbooth) has made his ascent on a Technicolor cloud of celebrity and flash. A freaky hip-hop peacock strutting between alternative and comedic, he's shamelessly campy and looks about as subtle as Mike Busey (
RIP, Sausage Castle
). One thing he isn't, though, is a half-stepper. And under all that hood glitter is a
true character
with strange appeal, even if some of it's a little cynical. I legit liked his previous album
Neon Icon.
Regardless, you don't miss an opportunity to see a persona this big and caricatured live.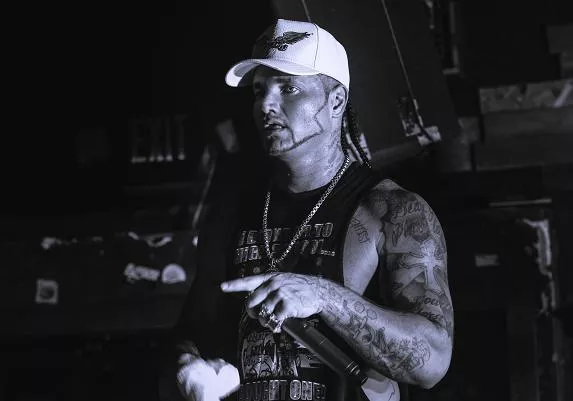 Chris Gaor
Riff Raff at Backbooth
There is a legitimate artistic case for Riff Raff though. Unlike most of the other MCs who chest-thump in attempts to self-certify their cred, the Peach Panther takes the sometimes ridiculous braggadocio of rap and rides it like a Pegasus, rocketing into the stratosphere with humor, swag and even some true weirdness. This degree of swashbuckling flamboyance is a kind of
performance art
in itself. Whether he's more personality than artist is a valid question. But the answer matters less and less when the totality is this maximum and entertaining.
Chris Gaor
Riff Raff at Backbooth
He may not have the deepest game out there but dude's got skills. Besides, no one here came to see a craftsman, and splitting technical hairs misses the point of the Riff Raff phenomenon – you don't go to a WWE event with UFC expectations. And regarding that signature charisma, humor and warped wit of his, it was all up in the house. Lowbrow perhaps, but high times certainly.
Chris Gaor
Riff Raff at Backbooth
Other than the mob scene of his headlining performance, the rest of the night was a rapid-shuffle carousel of opening MCs too numerous, unknown and inconsequential to list. But the vibe could be summed up by repeated urges from the stage for the audience to
blaze up,
which naturally caused some sheep to get ejected from the club before the main event.
There was also a miniature Riff Raff doppelganger roaming the audience who had me doing a few double takes when he was hanging out next to me. Oh, and PSA: Riff Raff's security detail is not down with crowd-surfers and stage-divers.
Chris Gaor
Riff Raff at Backbooth
Riff Raff, though, brought the show and lit up downtown with more neon than
Miami Vice.
And earlier that day, the walking cartoon himself even showed some surprisingly genuine humanity by doing a
donation drive
for local animal shelter Pet Alliance of Greater Orlando: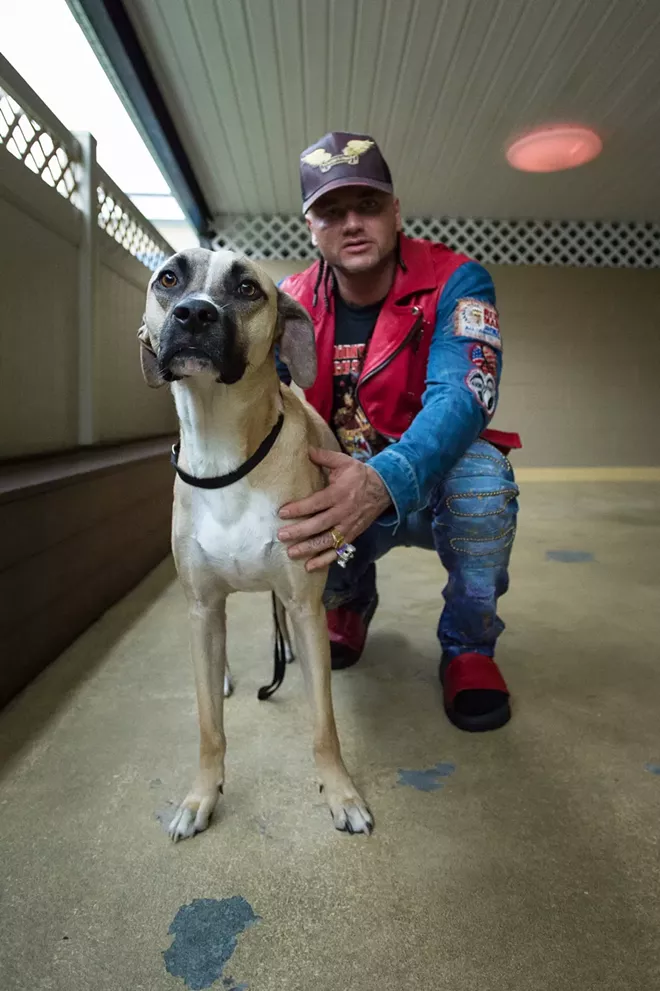 Rob Bartlett
Riff Raff at Pet Alliance of Greater Orlando
Cain't hate on that Ruff Ruff.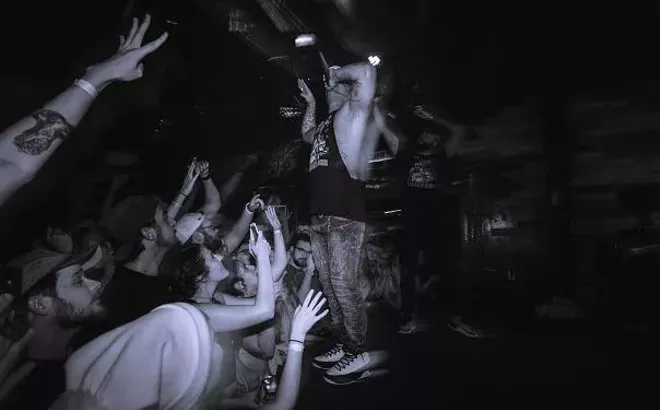 Chris Gaor
Riff Raff at Backbooth
///////////////////////////////////////////////////////////////////////////////////////
This Little Underground
is Orlando Weekly's music column providing perspective, live reviews and news on the city's music scene.

Follow Bao on Twitter (@baolehuu)
Email Bao: baolehuu@orlandoweekly.com