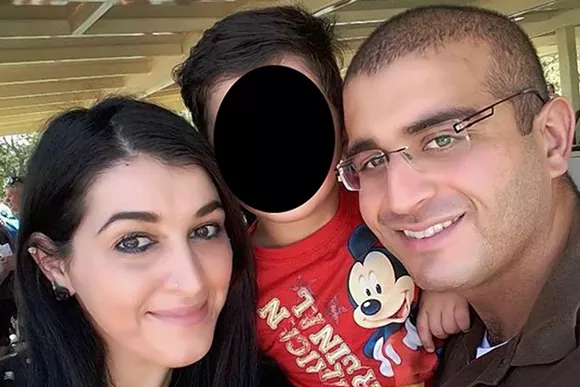 The wife of mass shooter Omar Mateen, who killed 49 people at the gay nightclub Pulse last June, was arrested by FBI agents at her home outside of San Francisco.
The
New York Times
reports Noor Salman was arrested on charges of obstruction in connection to the shooting. Mateen was killed during the incident in a shootout with police. In November, Salman
told
the
Times
she was "unaware of everything" and had no involvement or knowledge of her husband's plans to carry out the massacre.
After interviewing Salman, however, investigators did not believe she was telling the truth about Mateen's plans for a mass shooting, according to the
Times.
Salman is expected to appear in federal court in California tomorrow.
UPDATE:
In a statement, Orlando Police Chief John Mina says the FBI took Salman into custody on "charges of aiding and abetting by providing material support to a terrorist organization and obstruction of justice." During the June 12 rampage, Mateen plead allegiance to the terrorist organization ISIS. The statement continues, saying:
"I am glad to see that Omar Mateen's wife has been charged with aiding her husband in the commission of the brutal attack on the Pulse nightclub.

Federal authorities have been working tirelessly on this case for more than seven months, and we are grateful that they have seen to it that some measure of justice will be served in this act of terror that has affected our community so deeply.

Nothing can erase the pain we all feel about the senseless and brutal murders of 49 of our neighbors, friends, family members and loved ones. But today, there is some relief in knowing that someone will be held accountable for that horrific crime."
This story is breaking. Check back here for updates.