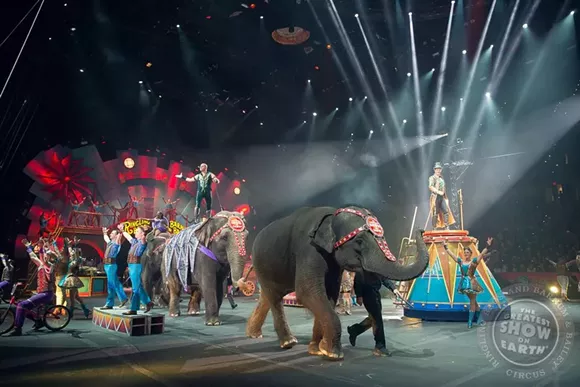 Photo via Ringling Bros./Facebook
After 146 years, "The Greatest Show on Earth" is coming to an end.
On Saturday, Jan. 14, Ringling Bros. and Barnum & Bailey Circus announced that both of its shows will end in May of this year.
The circus has been owned by the Feld family since Irvine Feld bought the company in 1967, and has since drawn about 300 million attendees in years passed, reports NPR.
However, in 2015 the show began to phase out elephants, a staple of the American circus, after recent public backlash about treatment of the animals. Even with this major transition, ticket sales have continued to decline.
Kenneth Feld, CEO of Feld Entertainment expressed his gratitude for Ringling Bros. fans on the
company's website
:
The decision to end the circus tours was made as a result of high costs coupled with a decline in ticket sales, making the circus an unsustainable business for the company. Following the transition of the elephants off the circus, the company saw a decline in ticket sales greater than could have been anticipated.
According to the AP
, the remaining animals, including lions, tigers, donkeys and llamas will go to suitable homes.
The last act will be performed at the Nassau Veterans Memorial Coliseum in Uniondale, New York, on May 21, 2017.