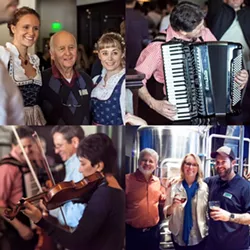 Image courtesy Story Farm
You like classical music? You like beer? This is the event for you. For the third year in a row, the Winter Park brewery and the Bach Festival Society of Winter Park will collaborate to honor the 18th-century composer Johann Sebastian Bach, a noted suds aficionado.
The fact that
Cask & Larder is now at the Orlando International Airport and has turned over its space on Fairbanks Avenue to the Ravenous Pig
isn't of consequence.
From noon until 3 p.m. on Saturday, Feb. 18, drop by the Ravenous Pig location and hear some of Bach's finest music, including the Brandenburg Concertos, and be privy to the release of C&L's Brandenburger Bock by brewmaster Larry Foor. One dollar from the sale of each beer will go to support the Bach Festival Society of Winter Park.
Some other local breweries are also participating in the festivities, including Redlight Redlight, Central 28, Crooked Can, Ten10 and Red Cypress Brewery. They'll be serving their own German-style beers.
The Ravenous Pig will have plenty of German comestibles available for purchase. Expect pretzel dogs with mustard, creamy sauerkraut dip with caraway chips and chicken schnitzel sliders, among other bites.
Not in the mood to polka, but still want your taste of the new brew?
Swine & Sons
will have 32-ounce growlers for sale to-go, and the Ravenous Pig will have both 32- and 64-ounce growlers available until supplies run out.
The Ravenous Pig
565 W. Fairbanks Ave., Winter Park
407-628-2333
theravenouspig.com