Photo via Eustis Police Department
The short-barreled AR rifle stolen from a Tavares police officer last weekend
This past weekend, quite a few guns went missing in Central Florida – nearly
50 handguns were jacked
from a gun store in Polk County – but most notably, within a span of 48 hours, a couple of high-powered weapons were stolen from two different police officers' patrol cars.
Sometime between 3 a.m. and 11 a.m. Saturday morning, an Orlando SWAT officer's unmarked police car was stolen from an apartment complex in Baldwin Park.
According to a statment from the Orlando Police Department, the officer noticed his car was missing at around 11 a.m. When authorities eventually located the car in an unoccupied apartment complex near Old Cheney Highway, they discovered the officer's gear was missing, including, horribly, a submachine gun.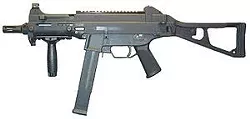 Photo via OPD
The missing UMP .45-caliber submachine gun
The unaccounted-for gear includes a UMP .45-caliber submachine gun, four loaded magazines, a helmet and two magazines for a handgun.
OPD also stated that even though they believe the car was locked and that the weapon was in a locked and secured container, there will still be an internal investigation.
This whole situation is very unfortunate for OPD, especially since they've consistently warned the public about the dangers of keeping guns in cars ...
But OPD isn't the only department with missing guns. On Sunday morning, a Tavares police officer woke up to find the windows of his marked squad car smashed in and a short-barreled AR rifle missing. This theft took some serious guts, considering the car was parked in front of the officer's home.
Eustis Police Cpl. Sarah Coursey told the
Orlando Sentinel
that the car was indeed locked and the gun was pried from the officer's gun lock.
Lastly, to pile it on, on Sunday nearly 50 handguns were stolen from a Polk County gun store. According to
WFTV
, at least two people broke into Guns Galore in Lakeland and made out with at least 46 handguns. Unfortunately there is no surveillance footage of the theft, and this was the second time Guns Galore was robbed in the last couple of weeks.
"They broke in with relative ease, as they did again this weekend," said Polk County Sheriff Grady Judd in a statement. "Is it too much to ask, Guns Galore, to harden your store and make it a little more difficult for your firearms to be stolen and transferred to the criminal marketplace?"
Grady is right. (And, WOW,
we do not say that very often
.) We should make it harder to steal weapons from gun stores. But maybe we should also make it a little harder to steal guns from cop cars? Or maybe not allow guns to be left in cop cars at all?
Just maybe?
Guns getting swiped from cop cars isn't anything new for Central Florida, let alone Orange County. Last year, someone broke into a Winter Park police officer's patrol car and stole a .223-caliber AR-15 assault rifle, a 30-round magazine and a .40-caliber Glock pistol with three loaded, 16-round magazines, reports the
Orlando Sentinel
.
Whether or not officers are allowed to store guns in their cars depends on the department. According to the
Sentinel
, storing guns in squad cars is prohibited at the Winter Park Police Department. However, deputies with the Orange County Sheriff's Department are allowed to store guns in their cars, as long as they're secured in a frame-mounted gun safe.
Here's what OPD says about leaving guns in unattended vehicles:
When an employee leaves Department property or Agency-authorized firearms in an unattended vehicle, the vehicle must be locked, the property and firearms placed in a locking device (i.e., MCT mount or Agency-approved gun-securing device), and if the vehicle is equipped with an alarm system, it is the employee's responsibility to ensure that the alarm is operational and activated.

OPD'S USE OF CITY VEHICLES PDF
Besides the fact that in 2014 Florida ranked third in the country for stolen guns, it's no secret that the Sunshine State is also one of the worst states in which to leave a gun in your car. Last year, three Florida cities (two in Central Florida) ranked among the highest in the U.S. for guns stolen from vehicles.
So, if Florida is statistically a terrible place to leave guns unattended in cars, perhaps it's time we had some policies in place that reflected these numbers.