THIS LITTLE UNDERGROUND

Mike Dunn
Sara Watkins at the Plaza Live
The
Orlando Philharmonic
is in the middle of an interesting new three-part series at the Plaza Live called
Women in Song.
The premise is self-explanatory, but the aspect worth special attention is the stylistic ground it spans. As you'd expect, it opened on a classical foot with opera singer
Ariadne Greif
back in November. Its next step out, however, was the recent performance by noted indie-folk artist
Sara Watkins
(Feb. 1).
The skilled singer-fiddler rocketed to visibility as a teenager in fresh-faced crossover bluegrass act
Nickel Creek
but has since built a solo career with its own accomplished legs with releases on notable labels like
New West
and
Nonesuch.
Now grown up, she blends folk, pop and indie like a rootsier, earthier
Jenny Lewis.

Mike Dunn
Sara Watkins at the Plaza Live
From the jump, a singer-songwriter whose instrumental pillar is a violin definitely makes for a more interesting prospect than the basic strumming crooner. But as it turns out, Watkins' music is overall much more alive on stage. The live setting especially flatters her, unchaining power in both her voice and emotion that's subdued in the studio treatment. And about that voice, it's pure femininity in all its power and lure. It's got plenty of crisp pop appeal but also shows peeks of the kind of authority that was the hallmark of country music's gutsiest
grandes dames.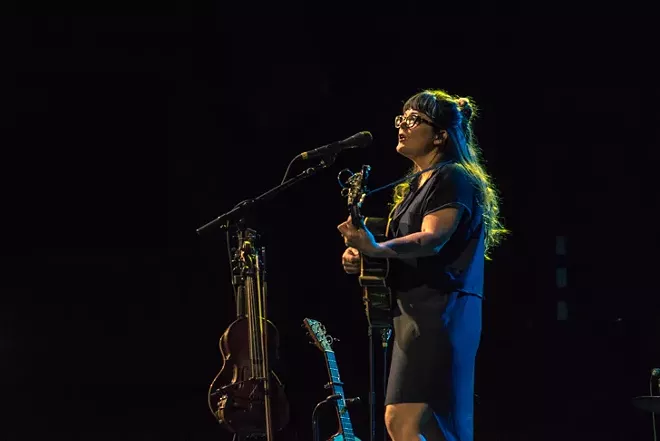 Mike Dunn
Sara Watkins at the Plaza Live
Musically, her own trio covers the ground of a much fuller band, including drums, bass, guitar, piano and the array of instruments that Watkins herself wields (fiddle, guitar, ukulele). But here's where the Orlando Phil comes in. They didn't simply organize the event, they were integrative and even collaborative in the performance, lending the concert a
four-piece string section
that included Philharmonic music director
Eric Jacobsen
on cello.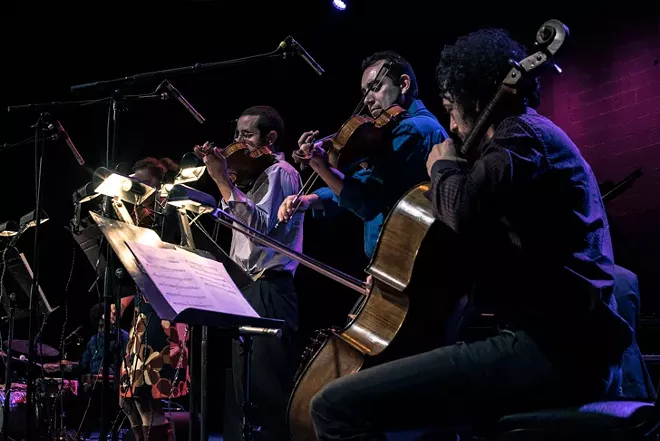 Mike Dunn
Sara Watkins with the Orlando Philharmonic at the Plaza Live
As Watkins herself noted, the local players didn't just render the string sections in some of her songs that she doesn't usually get to have played live; they actually did some special arrangements just for this show. And, of course, it was beautiful, underscoring the grace of her songs in incomparably rich ways.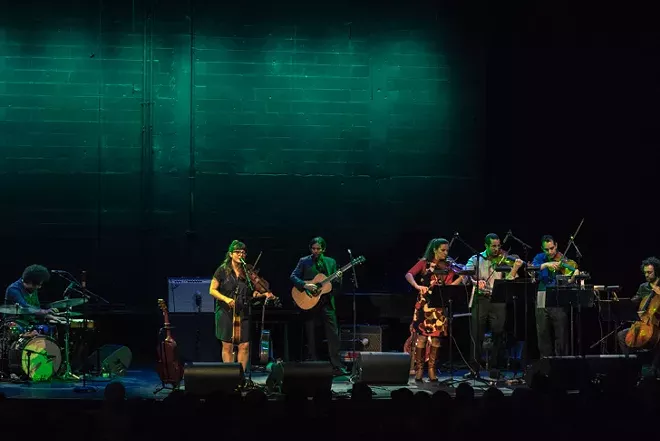 Mike Dunn
Sara Watkins with the Orlando Philharmonic at the Plaza Live
The Watkins concert showed the possibilities of what an affair like
Women in Song
can be when curated with this much relevance and executed with this much collaboration. It's a
fresh, out-of-the-box face
for the Phil. Across classical, folk, indie and pop, it's also a great crossroads of worlds that don't often mingle. Right now, we could maybe all use a little bit more of that.
Mike Dunn
Sara Watkins with the Orlando Philharmonic at the Plaza Live
The best news is that it's not over yet. The next and final edition is on March 1, and it should be similarly good with
Aoife O'Donovan
of esteemed progressive bluegrass band
Crooked Still.
If you were at the Sara Watkins show, you got a nice taste of what's in store because O'Donovan actually made a surprise cameo for a few songs.
Now that was a big and pleasant surprise, to be sure. But particularly intriguing were Watkin's allusions to O'Donovan being
local.
After some inquiries on that to some publicists, I learned that O'Donovan married the Phil's music director last summer. The fact that this notable music figure is now a part-time local is a much bigger and more extraordinary revelation than the unannounced guest appearance. So maybe if you're lucky you'll spot her at Publix or something.
Conveniently, today's edition of Matthew Peddie's
Intersection
on WMFE 90.7 FM gives a more detailed look on Aoife O'Donovan
here
.
///////////////////////////////////////////////////////////////////////////////////////
This Little Underground
is Orlando Weekly's music column providing perspective, live reviews and news on the city's music scene.

Follow Bao on Twitter (@baolehuu)
Email Bao: baolehuu@orlandoweekly.com