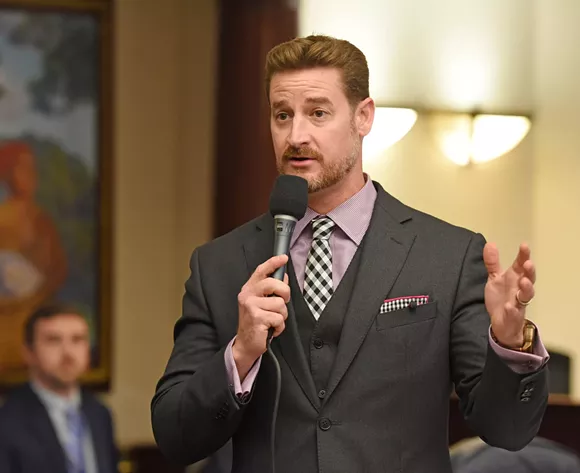 Photo via Greg Steube/Facebook
A new bill filed by Florida Sen. Greg Steube could potentially gut the state's open-records law by making it more difficult for people to collect legal fees from local and state agencies that withhold documents illegally.
SB 80
is essentially a
repeat
of a bill Steube, R-Sarasota, filed last year that died in the Florida Legislature. The proposal changes the law to say that courts "may" award legal fees when a government agency unlawfully refuses to provide a public record instead of saying it "shall" award legal fees. The measure also requires plaintiffs to provide a written notice of the public records request to the custodian of the records at least five business days before filing a lawsuit, which isn't currently required.
Proponents of the bill have argued the bill would stop unethical lawyers from filing lawsuits to local governments solely for the purpose of getting attorney's fees. But opponents, including the
Tampa Bay Times
,
Florida Today,
the
Association of Alternative Newsmedia
, the
First Amendment Foundation
and other
media organizations
, have come out strongly against the bill because they say it undermines transparency and makes it harder for citizens to file suits, especially those with
few resources
.
"Citizens might not be able to afford to win against government, even in egregious cases of abuse of the law," writes columnist Bob Gabordi at
Florida Today
. "These days, I don't think the country is in the mood simply to trust government, no matter which side is in power. And we know, some local agencies already make it very difficult as a matter of course to obtain records of what they are doing."
SB 80 is scheduled for a hearing at 10 a.m. Tuesday by the state Senate Governmental Oversight and Accountability Committee in Tallahassee. You can let Steube know how you feel by sending him an email at steube.greg@flsenate.gov. You can also call him at his Tallahassee office (850-487-5023) or his Sarasota office (941-342-9162).