THIS LITTLE UNDERGROUND

Jen Cray
Autarx at Will's Pub
Like an encyclopedia of heavy metal, probably no other promoter in the Orlando area covers the spectrum as well as
Endoxa Booking.
But when it reaches out to the genre's furthest extremities like in 2015 with the amazing
Author and Punisher show
, Endoxa makes some of its best, deepest and most interesting additions to the scene. Count the latest synth-thick production featuring Gost, Autarx and Moondragon (Feb. 5, Will's Pub) as one of its most memorably bold.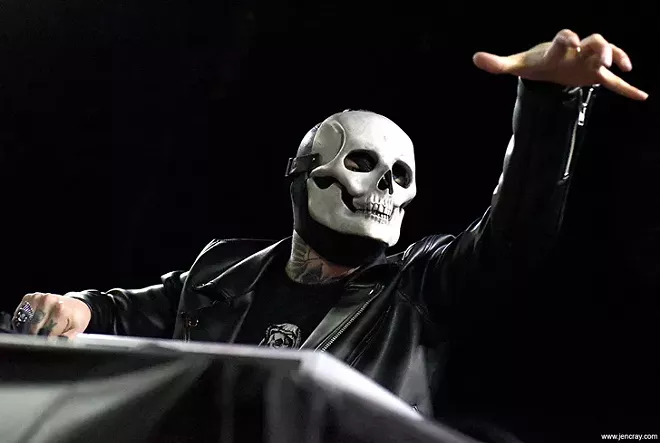 Jen Cray
Gost at Will's Pub
Headliner
Gost
is, by careful design, an interesting figure. Musically, his
hammering dark-synth sound
borrows from '80s horror film soundtracks, takes aesthetic cues from black metal and drops the crunching thunder like
Justice.
In presence, the mysterious American producer executes with dramatic flair, athletic performance and a fantastic skull mask. The performance was so physical at one point that he
overturned his whole rig
in the heat of the moment, stopping the show, only to recover with maybe his most pulverizing song of the night. It's a winning formula filled with hooks that in some ways makes perfect sense and in other ways is total alchemy.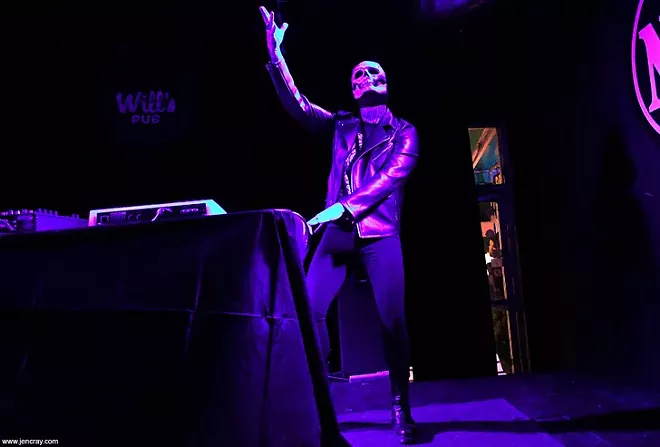 Jen Cray
Gost at Will's Pub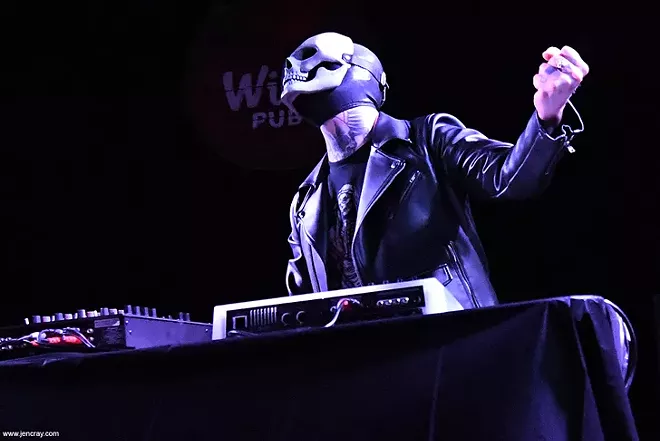 Jen Cray
Gost at Will's Pub
Had Gost come along during the golden age of the industrial scene, he would've been not only a sensation but possibly a salvation. He packs way more modern aggression and relevance than the
terrible gothic techno
that industrial dance music has become. The damned now have their
Deadmau5.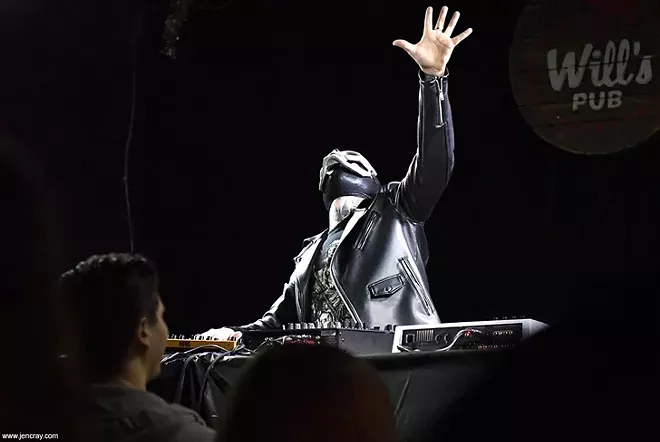 Jen Cray
Gost at Will's Pub
Synth music is getting an increasingly fairer shake right now but the live bar for such acts is almost institutionally low. Gost, however,
brings the excitement
on stage even without a fancy setup. This could easily get big. Not that there's necessarily much demographic overlap, but he did manage to pack out Will's Pub despite it being
Super Bowl Sunday.
Jen Cray
Moondragon at Will's Pub
If Gost takes inspiration from '80s sounds, local one-man act
Moondragon
is straight worship. Armed with a video screen and a whole lotta synth, he's a direct warp back to the sleek electro drama of perhaps what was, sonically, the last true brave new world. His retro-futurism is all in on the digital dream and excess of the '80s – no arty abstraction, just pure fidelity and revivalist immersion. The thing is, though, it's also
very well done.
His set was essentially a half-hour
Knight Rider soundtrack,
which middle-school me will simply not permit adult me to reproach. When experienced in concert with vintage video loaded with action and speed from jets, racecars, and movies like
The Last Starfighter, The Wraith
and
The Terminator,
it's sweet neon nostalgia.
Jen Cray
Moondragon at Will's Pub
///////////////////////////////////////////////////////////////////////////////////////
This Little Underground
is Orlando Weekly's music column providing perspective, live reviews and news on the city's music scene.



Follow Bao on Twitter (@baolehuu)
Email Bao: baolehuu@orlandoweekly.com