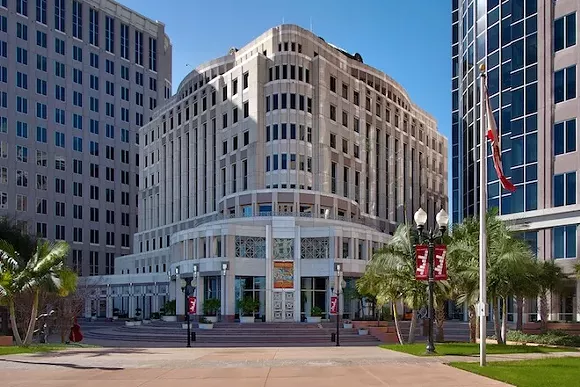 With advocates asking Orange County commissioners to
protect
the immigrant community and
several
online
petitions
requesting Orlando Mayor Buddy Dyer to make the City Beautiful a so-called "sanctuary" city, we wondered if any of those ideas was getting interest from local officials.
As you may already know, sanctuary cities and counties are local governments that don't detain undocumented immigrants for federal immigration officials. If, for example, a local police officer detains an undocumented person who was driving without a license, they will usually take them to a county jail, where after processing, Immigration and Customs Enforcement (ICE) can ask the jail to hold inmates so they can get a warrant to start deportation, according to the
Washington Post.
A sanctuary city or county could refuse this request from ICE under the premise that holding people for immigration authorities without a reason would violate the U.S. Constitution. The
Immigrant Legal Resource Center
says the federal government does not usually reimburse local governments for holding undocumented people. Last month, President Donald Trump released an executive order that would punish sanctuary cities and counties by taking away federal funding.
In response to immigration advocates asking Orange County commissioners to implement policies to protect immigrants, including measures associated with sanctuary counties, Mayor
Teresa Jacobs
, a Republican, said the federal government, not the county, must address immigration issues.
Orlando Weekly
reached out to several city commissioners and Mayor Buddy Dyer to see if a sanctuary-city policy was something the Orlando City Council would consider. We didn't hear back from some of them, but Dyer, a Democrat, did send us a statement in response to the petitions.
"While it's not clear exactly what the definition of a 'sanctuary city' is, it is clear what Orlando is," Dyer says in the statement. "In Orlando, diversity and inclusion are a vital part of our way of life."
Dyer says the city has a long history of advancing policies that embrace diversity and celebrate various cultures, including establishing a non-discrimination ordinance more than 40 years ago, creating opportunities for women and minorities through the MWBE office and BLUEPRINT program and ensuring federal laws that prohibit discrimination are enforced. The mayor says this has made the city stronger.
"Even in our darkest hour, following the Pulse tragedy, our community responded with love and compassion," Dyer says. "We embraced and supported each other, no matter religion, race, ethnicity or sexual orientation. We responded together as one Orlando, a united Orlando."
He adds that the city will continue "not to focus on immigration enforcement" but on making Orlando "the best place in America to live, work, play and raise a family.
"As a City, we remain focused on continuing to find ways to work together to overcome hate, intolerance and injustice and embrace diversity, equality and fairness in Orlando and throughout the nation," Dyer says.