Rob Bartlett
The Strand is bright and airy by day, sleek and chic by night.
You forgot to make reservations for Valentine's Day (it's Tuesday, BTW), and you're sure you're headed for the doghouse. No sweat. Here are 10 romance-ready restos where it's cool if you didn't call ahead — they don't take reservations anyway.
Just a side note before the cat's out of the bag: Consider dining earlier than you normally would. Like, get there when they open — we've listed opening hours below. There's a good bet there will be a crowd outside waiting, so you'll want to get your name on the list as early as possible. It's not the end of the world, either, since dining early leaves more time for V-Day fun other places (wink wink).
1. Domu

The vibe:
Ultra modern mid-century furnishings, loud and active, great for people-watching.
Opening time:
5:30 p.m.
Favorite dish:
Mazemen ramen with uni, pancetta and beech mushrooms.
Rob Bartlett
The Cowfish at CityWalk is the definition of whimsical.
2. The Cowfish
The vibe:
Cavernous restaurant with tons of things to look at, including virtual fish and actual fish.
Opening time:
11 a.m. – if you want to do dinner, head in around 4:30-5 p.m.
Favorite dish:
The All-American Bacon Double Cheeseburgooshi (Trust us.)
3. The Strand
The vibe:
Intimate, minimalist, attentive.
Opening time:
5 p.m.
Favorite dish:
Alabama hen, and treat yourself to one of their excellent by-the-bottle wines.
4. Trevi Pasta

The vibe:
You'll feel like family while you're snarfing down your carbs. Pure comfort.
Opening time:
10 a.m., but dinner starts heating up around 5:30 p.m.
Favorite dish:
The three-course dinner will feature beet ravioli with goat cheese, gnocchi or tagliatelle florentine.
5. The Porch
The vibe:
Dinner on Tuesday promises to be a quieter affair than usual, and lovely under the market lights outside.
Opening time:
11:30 a.m., and dinner ramps up at 5 p.m.
Favorite dish:
Steak frites — coffee-rubbed hanger steak and truffle fries.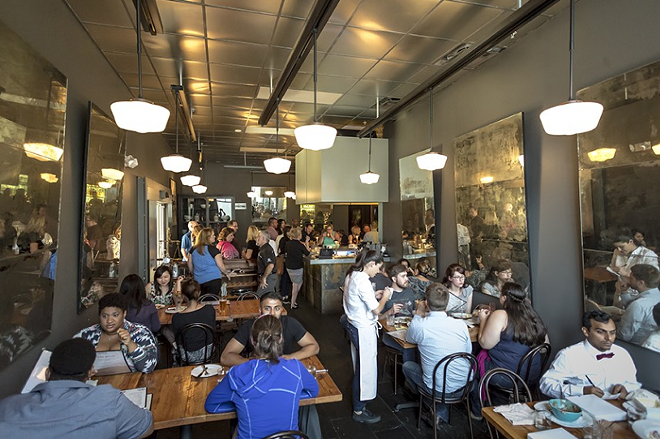 Rob Bartlett
Behind those elevator doors, Pharmacy Orlando.
6. Pharmacy
The vibe:
Dim lighting, straight-ahead jazz on the speakers, laughter at the bar, located behind secret elevator doors.
Opening time:
5 p.m.
Favorite dish:
Rotating seasonal menu means something different is always what the doctor ordered.
7.
Eola Wine Company
The vibe:
Lively with lots of light during daylight hours. Sultry during sunset.
Opening time:
3 p.m.
Favorite dish:
Go for the large charcuterie and cheese platter and make sure to include semi-aged goat cheese Humboldt Fog as one of your picks.
8.
Relax Grill at Lake Eola
The vibe:
The weather's going to be gorg, so eating outside is a no-brainer. Also, across from swan boat rides for an easy after-dinner activity.
Opening time:
11:30 a.m., but get there at 5 p.m. to beat the dinner rush.
Favorite dish:
"Tot-chos," tater tots with all the nacho fixins.
9. Julie's Waterfront
The vibe:
This lakeside seafood spot has been an Orlando mainstay forever. It's no-frills, but also no fuss, with a serene view of Lake Jennie Jewel.
Opening time:
11 a.m.; dinner crowds increase at 6 p.m.
Favorite dish:
Mofongo Seafood combines Florida's bounty with flavors from our local Puerto Rican community.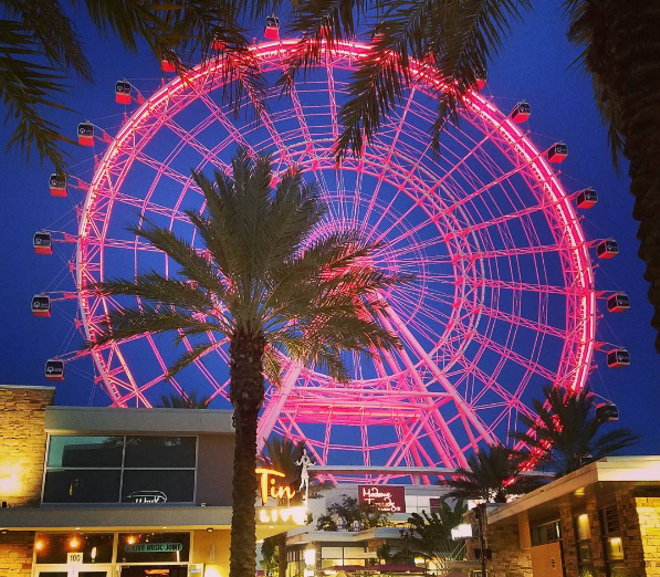 Holly V. Kapherr
This will basically be your view from the patio at Yard House. Neon colors may vary.
10. Yard House

The vibe:
Sit on the patio for a front-row seat to the lit-up Orlando Eye and all the activity at I-Drive 360.
Opening time:
11 a.m., and since it's in Tourist Town, it's always busy, but Google says the best time to head in is before 6 p.m.
Favorite dish:
The poke nachos are on the "snacks" menu, but they're an excellent entree choice.