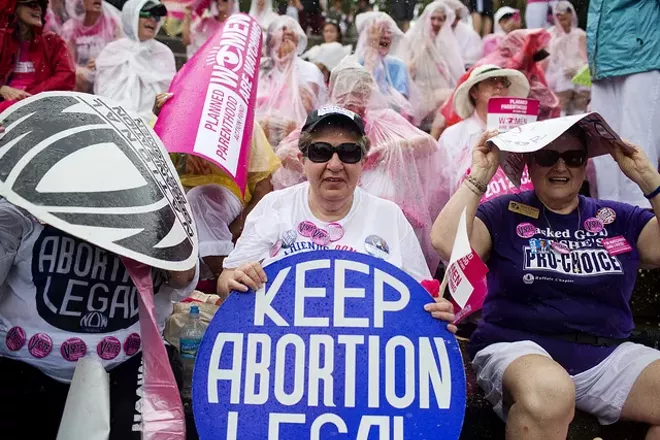 As per usual, Florida Republicans have already filed a series of anti-abortion bills in the state legislature, including a measure that
bans
abortion 20 weeks after conception. But a new proposal sponsored by state Rep. Erin Grall brings an added twist to the debate.
HB 19
would allow women to sue their doctors up to 10 years after undergoing an abortion.
The Vero Beach Republican's measure says physicians who perform abortions are liable to their female patients who are physically injured or experience "emotional distress" caused by their doctors' "negligence or failure to obtain the informed consent required." The bill gives women 10 years to sue, but they must act within four years of the harm. HB 19 has already passed the Florida House Civil Justice & Claims Subcommittee by a 10-6 vote.
"This bill is about empowering women to bring valid claims against negligent physicians and to look at what is the remedy for failure to give proper informed consent, which really is a very different way to look at what's happening and how some women are not being given a true picture of what the decision they are about to make could or would do to their future," Grall says, according to
The News Service of Florida
.
The Florida Planned Parenthood Alliance called the bill "a blatant attempt to intimidate and shutter safe and law-abiding abortion providers," on its
Facebook page
. State Rep. Sean Shaw, D-Tampa, says the bill would have a "negative effect on a woman's ability to get the procedure."
"Not only will it have a chilling effect on her ability to find someone to do it, it also creates a cause of action for a specific procedure that is totally foreign to current law," Shaw says, according to NSF. "It would be something that we would be creating, it would be something new when, in fact, if we need to change the med-mal statute, then let's do that."
Other Republican lawmakers and lobbyists for the insurance and doctor industry also expressed concerns about the bill, NSF reports.
"A lot of the elements that are in the law that were criticized today were designed to bring that (malpractice system) under control," says Mark Delegal, a lobbyist for The Doctors Company, during a hearing for the bill. "I think this is bigger than the abortion issue. Ladies and gentlemen, this is a malpractice bill that indicts the current system. And I think that's pretty serious in light of the substantial progress we've made."