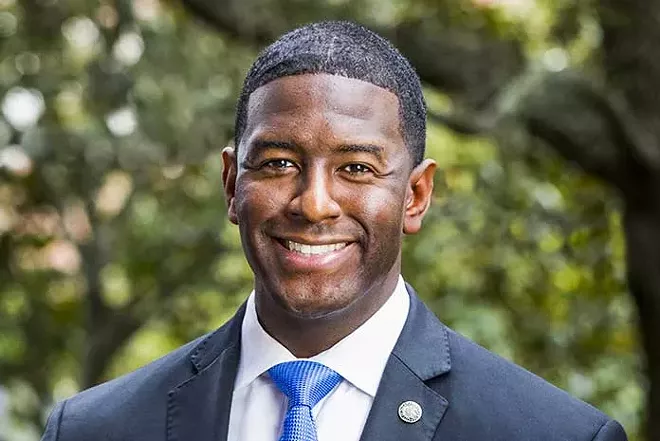 On a cool, clear day last week in Tallahassee, a handful of reporters were outside City Hall, listening to Mayor Andrew Gillum and a couple of activists attack a state bill that would essentially bar local governments from passing regulations on business.
"We are a very big state, and we are a very diverse state," Gillum said. "We bask in that diversity and richness, but we also know that Tallahassee, and Jackson County, and Miami-Dade County and Orange County and all over this state, there are differences."
The event was sponsored by Campaign to Defend Local Solutions, an organization Gillum founded to push back against legislative initiatives to dial back local control —- especially on issues like gun control. But the organization and its activities also serve as a reminder that Gillum likely has ambitions that go beyond Tallahassee.
For months now, the mayor of the state's capital city has been assuming a more outspoken role against the Republican-dominated state government that sets up camp in his municipality. Along with other Democratic mayors like Miami Beach's Philip Levine and Tampa's Bob Buckhorn, Gillum is a favorite to jump into what could be a crowded primary for governor.
Two other likely candidates —- trial lawyer John Morgan and former Congresswoman Gwen Graham —- have more name identification, but big-city mayors have been one of the few bright spots in a wave of elections that have left Democrats clinging to one statewide office, the U.S. Senate seat held by Bill Nelson.
A highly-publicized court fight against gun-rights advocates over a decades-old city ordinance prohibiting shooting guns in a public park —- the impetus for setting up the Campaign to Defend Local Solutions —- isn't the only place where Gillum, 37, has staked out a progressive agenda.
As Florida's ban on same-sex marriages expired following a court ruling, the mayor invited gay couples to get married in Tallahassee. On the same day that Gov. Rick Scott was sworn in for a second term in 2014, Gillum was at a same-sex marriage.
When President Donald Trump issued an executive order restricting some funding for local governments that provide sanctuary for undocumented immigrants, Gillum slapped back.
"President Trump's immigration Executive Order attacking cities is not a projection of strength, but a reflection of weakness," Gillum said. "His actions are inconsistent with our highest values and cause us to shrink from our rich history as a nation of immigrants."
The mayor hasn't held his fire against statewide officials, either. Speaking before the Florida breakfast at last summer's Democratic National Convention, where he also snagged a brief spot on the main stage, Gillum lambasted Agriculture Commissioner (and potential 2018 GOP opponent) Adam Putnam for supporting Trump, then added: "Don't get me started on (Attorney General) Pam Bondi, and, God, the governor is out to lunch."
Gillum, perhaps the only African-American prominently mentioned among potential gubernatorial candidates, could be angling for the Obama generation: young, progressive and increasingly diverse.
"I think he's considering running for governor, and he's testing out some basic themes and some basic approaches," said Steve Vancore, a Democratic political consultant based in Tallahassee.
But Gillum would face obstacles in a statewide run. For one thing, he remains obscure to many Florida voters. Gillum presides over the seventh-largest city in the state, according to a University of Florida study, and lacks the ancestral name of Graham, the daughter of a former senator and governor, and the omnipresent law-firm commercials starring Morgan.
"I just think he's not a household name yet," said Susan MacManus, a political-science professor at the University of South Florida. "His key is really money and name recognition."
Vancore suggested that's not as much of an issue now, more than a year away from the Democratic primary and almost two years away from the general election. Instead, Gillum is trying to build support among the elements of the party that could help with that name ID. And he dismisses the idea that Tallahassee's pecking order could hurt the mayor.
"I don't see not being in a big media market as a big issue," he said. "Right now, the audience is insiders."
Some attacks on Gillum are easy to see. He could be in for criticism of his response last year to Hurricane Hermine. Scott knocked the pace of the city's efforts to restore power to customers who lost electricity in the wake of the storm, though Gillum and others said the city actually moved pretty quickly to get the lights back on.
Republican strategist Rick Wilson, though, said that would likely not be Gillum's largest issue. He said Gillum might struggle to come up with a "selling proposition" at a time when personalities can matter as much as politics in winning elections. And Wilson also questioned how much appeal some of Gillum's more liberal positions —- like his stance in the gun-control flap —- might have in a general election.
"If the game is, win a Democratic primary in Miami-Dade, that's a great idea," Wilson said. "But if it's play statewide, win statewide, it's not."