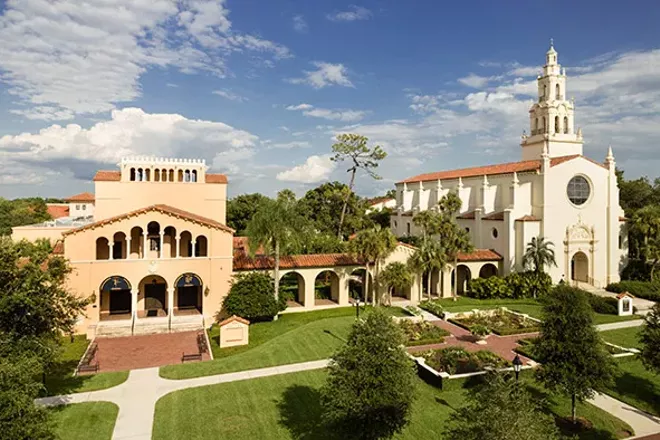 Rollins College is temporarily suspending all six of its fraternities after school officials say concerns over "high-risk behaviors" surfaced this week.
Meghan Harte Weyant, assistant vice president for Student Affairs, sent out a campus-wide email Tuesday night saying she had "reviewed a series of student conduct concerns as they are related to our fraternity community."
"The concerns included high-risk behaviors on behalf of all six of our fraternities," the email says.
Rollins College spokesperson Jo Marie Hebeler says the suspension was the result of multiple conduct issues on behalf of all fraternities and not one individual incident. Winter Park Police are currently investigating an incident that happened on Sunday night almost a mile away from the Rollins campus involving a burglary and battery by three offenders. The victim was taken to the hospital by the Winter Park Fire Department. Winter Park Police Lt. Pam Marcum would not confirm if the victim was a student at Rollins College and would not release further information about the open investigation.
During the fraternity suspension, all chapter privileges will be denied, and chapters will not be allowed to hold meetings or activities. All Greek Week activities scheduled for March are also canceled. The
Orlando Sentinel
notes no sororities have been suspended.
"This decision was made for the safety and wellbeing of all our fraternity and sorority life students and the community at large," Weyant says in the email. "I am encouraged by the deep commitment of our [Interfraternity Council] and chapter presidents to the health and wellbeing of our community. They exhibited both creative leadership and engaged citizenship today as they came together to commit to a plan for the good of our community over the interest of any one individual chapter."
Weyant adds that college officials will be working in the upcoming weeks to "determine a best plan of action to more closely align the vision and values of the fraternity experience with the academic mission of Rollins."
"We will work to strengthen the fraternity community at large, as well as work with individual chapters to support their positive growth and engagement within the campus community," the email says.
The Office of Fraternity and Sorority Life is holding open office hours to hear any questions or concerns from student on Thursday, Feb. 23, from 9 a.m. to 12:30 p.m. and from 2:30 p.m. to 5 p.m.