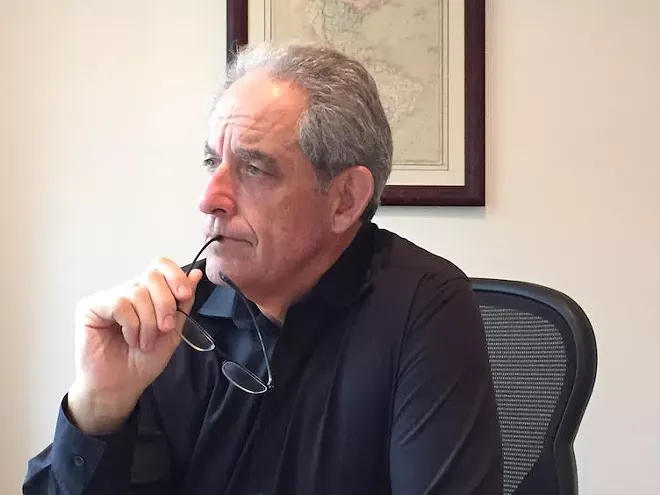 Photo via Page-Turner Publicity
T.L. Williams
As Americans learn more about what Russia's role was in
hacking
the 2016 U.S. election, author
T.L. Williams
' spy thriller
Zero Day: China's Cyber Wars
couldn't be more timely.
The 2017 novel by the former CIA operations officer is the third installment for his protagonist Logan Alexander, a former Navy SEAL and head of a maritime consulting company in Hong Kong. In this fictional account, the FBI recruits Alexander to vet and handle a government official named Li Jiang who knows about the Chinese government's efforts to undermine the American economy with aggressive cyberattacks on its banking system. In reality, cybercrime costs the global economy $445 billion a year, according to
Reuters
.
Williams, who's speaking about his career and book at 6:30 p.m. Thursday, Feb. 23, inside the
Orlando Public Library
, isn't new to China's operations – he conducted clandestine operations in Asia during his 30-year career with the CIA. The author says that experience gives his novel authenticity that other spy thrillers may lack, but it does have some consequences. The CIA vetted his book for almost two years before its publication, and at one point, deemed it "highly classified."
"It was a very difficult time for me," he says. "I had to exhaust the whole appeal process because they really urged me to just get rid of it and kill the project. But they would never tell me what concerned them and I knew nothing classified was in it. In retrospect, I think it could have had something to do with President Obama and President Xi from China forming a
pact
to stop cyberattacks against each other. China was really egregious about hacking into companies for intellectual property. The book was highly critical of China, and they probably didn't want them portrayed in that light as they signed an agreement."
Aside from entertaining, Williams says he hopes the book helps teach people about the need for cybersecurity education.
"The rules are a bit different with cyber," he says. "When we were having nuclear weapons conflicts with Russia, we had treaties that allowed for checks and balances. We don't have anything like that for cyber, and the kinds of things you can do with these attacks are pretty draconian. You can destroy an economy, take out a whole power grid, steal intellectual property or affect elections. All of those things can be a grave risk to a country."
Williams doesn't want his readers to hate China, but he hopes they enjoy the adventures of his characters.
"I think they'll enjoy the interplay and the authentic feel," he says. "Some people haven't really spent any time in the country they're writing about. I can describe to you what a Chinese market, but until you've been there and seen a snake getting ready to be served up, it's not the same. Aside from that, I really do have fun writing these books and developing as a writer."