THIS LITTLE UNDERGROUND

If ever there was a poster boy for the freak-folk movement,
Devendra Banhart
(Feb. 24, The Beacham) would be it. Of the breed of outsiders who mine the fringes of folk music, the wildly lauded artist is one of the cornerstone stars of the modern era.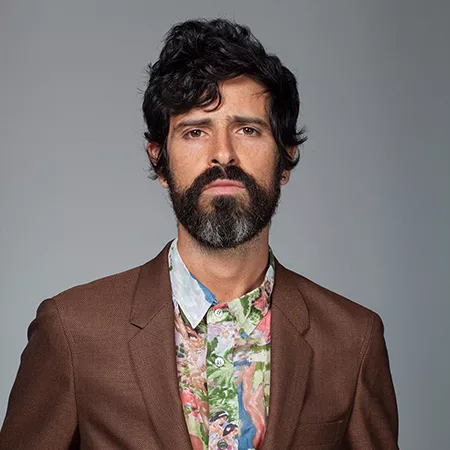 Moses Berkson
Devendra Banhart
Depending on where you sit on the continuum, the notion of
freak folk
will draw anything from pride to a chuckle. It's wide, uneven ground that goes from the revelations of
Akron/Family
to the ridiculousness of
CocoRosie
and
Faun Fables.
Though his wandering career isn't without its share of indulgence, Banhart has managed not to get mired in the kookier trappings of the genre.
Devendra Banhart at the Beacham
At this point, evidenced at this show, he's an accomplished composite of all the seasons of his career thus far. His artistry remains constant, but it's grounded by tropical breezes and occasional neo-hippie wafts. At least a couple stems of
daisies
got handed past me through the crowd on up to the stage to Banhart. Yes, it was kind of sweet. Couples were even dancing on the perimeter. OK, all right, I give in. All that notwithstanding, and not that he gives too much of a shit about it, the guy still packs tons of indie cred. Add in his
Spanish
fluency – which ignited the room each time he broke into it – and that makes him gold in Orlando.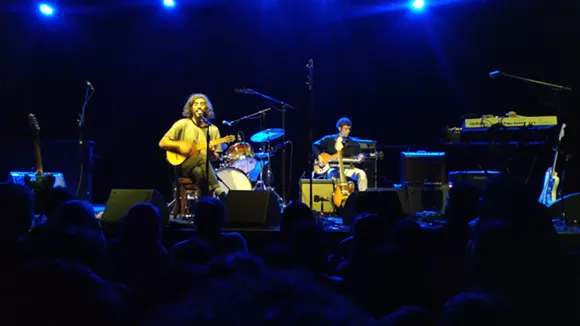 Gregory Rogove and H. Hawkline at the Beacham
One of the biggest surprises of the night was seeing noted singer-songwriter
Cate Le Bon
on guitar, which turned out to be a bonus for only us and the next date. The individual projects of the rest of Banhart's band constituted the tasting showcase that opened the evening, which included a quirky set by the rhythm section and an improvisational 15 minutes of wind-chime drone from an intriguing and intricate little music box by keyboardist
Josiah Steinbrick.
Josiah Steinbrick at the Beacham
Of them all, the most distinctive and absorbing was the performance by Welsh artist and Cate Le Bon partner
H. Hawkline.
Blending indie and psychedelic, his music is a modern expansion of British Isles folk. Besides the most cohesive and concentrated songs, his expression was a
gentle marvel.
Though he was solo, his exquisite voice was as rich as it was avian, and it lifted the room on wings of effortlessness.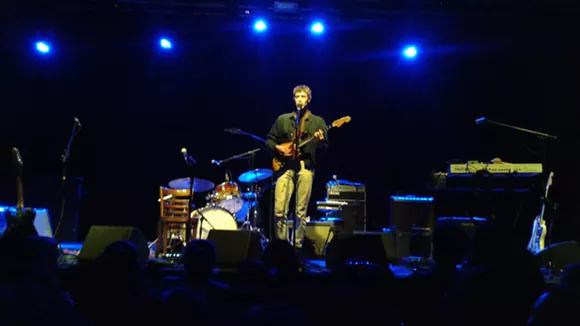 H. Hawkline at the Beacham
///////////////////////////////////////////////////////////////////////////////////////
This Little Underground
is Orlando Weekly's music column providing perspective, live reviews and news on the city's music scene.



Follow Bao on Twitter (@baolehuu)
Email Bao: baolehuu@orlandoweekly.com