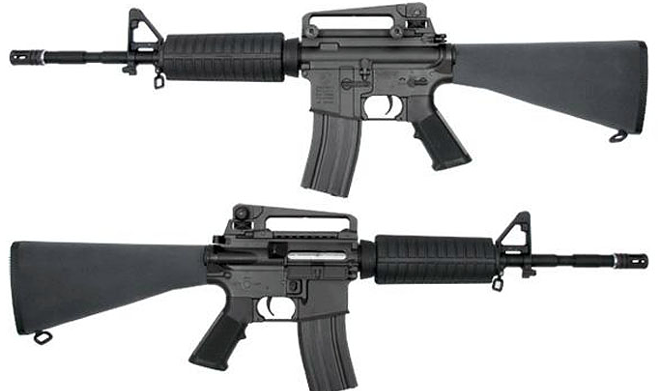 While investigating shots fired at an Orlando intersection, deputies with Orange County Sheriff's Office located an
AR-15 that was previously stolen from an unmarked police vehicle.
According to the Orlando Police Department, Anthony Bush was arrested on Saturday, Feb. 25, after gunshots were reported near the intersection of Janson Street and South Buena Vista Avenue. While investigating the area, officers with the Orange County Sheriff's Office discovered the AR-15 behind a tree, along with a bag of cocaine.
Bush was located nearby at his home and was then arrested on charges of armed possession of cocaine and grand theft.
On Wednesday, March 1, along with the help of the Florida Department of Law Enforcement, OPD also arrested a 17-year-old boy who they believe was involved in the theft of the gun.
Orlando Weekly has
chosen not to publish the boy's name because he is a minor.
The AR-15 has been missing since Feb. 14, when it was removed from a secured unmarked police vehicle at Lake Nona Water Mark Apartments. During the break-in, the rear glass of the vehicle was shattered and the entire long gun mount, including the properly secured OPD-issued rifle was removed, says OPD.
While the recovery of this high-powered rifle is great news,
there's still a missing UMP .45-caliber submachine gun
out there somewhere.
Last January, an Orlando SWAT officer's unmarked police car was stolen from an apartment complex in Baldwin Park. The car was later located, but the gun, which was secured inside, is still missing. Other items that are not accounted for include four loaded magazines, a helmet and two magazines for a handgun.
Despite OPD urging the public to not leave guns in automobiles (see above tweet), there has yet to be any permanent policy changes for officers.
In February, following the theft of the now-recovered AR-15, a spokeswoman with OPD told the
Orlando Sentinel
that all officers have been ordered to remove all firearms from their vehicles. However, that was just a short-term order until the department alters its vehicle policy.
As of now, OPD's long-term policy still allows officers to keep unattended guns in their patrol cars, as long as the car is locked and the gun is secured in a locking device.